Lightning® Application Delivery Controller (ADC)
Cloud Load Balancing
and Application Delivery
A10's solution for containers and microservices-based architectures in public, private, or hybrid cloud provides application load balancing, traffic management, security, and analytics
Schedule Demo
Key Benefits of Lightning Application Delivery Controller
Advanced Load Balancing in the Cloud: 5 Ways to Simplify the Chaos
This eBook will take you through five ways to ensure:
• Performance and reliability
• Secure applications
• Flexibility
• Centralized Management
• Simplified portability
download ebook now
Key Features of Lightning Application Delivery Controller
Elastic Scaling

Increase application availability and operational efficiency with advanced elastic load-balancing that auto-scales on demand
Eliminate overprovisioning resources for application availability

Increase DevOps Agility

Improve automation and self-service with 100 percent API-driven infrastructure
Integration with container orchestration systems, CI/CD tools, and cloud deployments

Simplified Licensing

New consumption-based software model allows flexibility and completely dynamic deployment
Eliminate planning risks and overprovisioning to allocate and re-distribute capacity across applications, clouds and data centers

Management and Visibility

Option to choose between a SaaS-based or self-managed Harmony™ Controller for centralized management and analytics across data centers and clouds
Per-app real-time visibility for instant awareness of a failure with actionable analytics and self-diagnostics, regardless of application location
Network Traffic Management and Analytics
Layer 4 / Layer 7 visibility into user experiences, traffic profiles and server health. Centrally-manage your application services and administrative capabilities. Configure all policies with a single pane of glass, regardless of where application services are deployed.
Centrally Manage Your Apps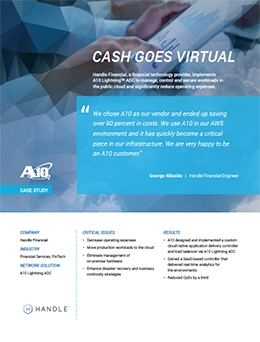 Handle Financial Moves to the Cloud
Challenge
Handle Financial is a financial technology provider needed to manage, control and move secure production workloads to a public cloud, significantly reducing operating expenses.
Solution
Deployed the cloud-native application delivery controller Lightning Application Delivery Controller and Harmony Controller to leverage a SaaS-based solution that delivered real-time analytics, eliminated the need to manage on-premises hardware, enhanced disaster recovery and business continuity strategies and reduced OPEX by a third.
Download Case Study
Let Us Show You
Learn why thousands of businesses trust A10 Networks to protect and deliver their mission-critical applications