Scaling 5G Security
We help mobile operators future-proof their networks with agile and consolidated solutions, which result in improved security, hyperscale delivery, higher reliability, and lower TCO.
5G requires high-performance, software-based security
Mobile operators are virtualizing their networks and deploying security solutions that leverage NFV and cloud-native technology. 5G security is critical for new use cases such as connected cars or tele-mentored surgery, which will drive stringent new security and latency requirements, as disruptions could be catastrophic.
Legacy Security is Inadequate
Networks will need to replace legacy security systems with those capable of automation, artificial intelligence, machine learning and threat intelligence as network demand exponentially increases and the threat surface expands.
5G & IoT Demand Higher Performance
5G and IoT traffic is inherently different than 4G/LTE and so requires greater throughput, packets and concurrent sessions from security infrastructure.
Ever-evolving, modern cyber attacks
Static, monolithic systems with fixed licensing models cannot meet the needs for an agile SDN/NFV infrastructure that can adapt and rapidly scale on demand to changing business needs.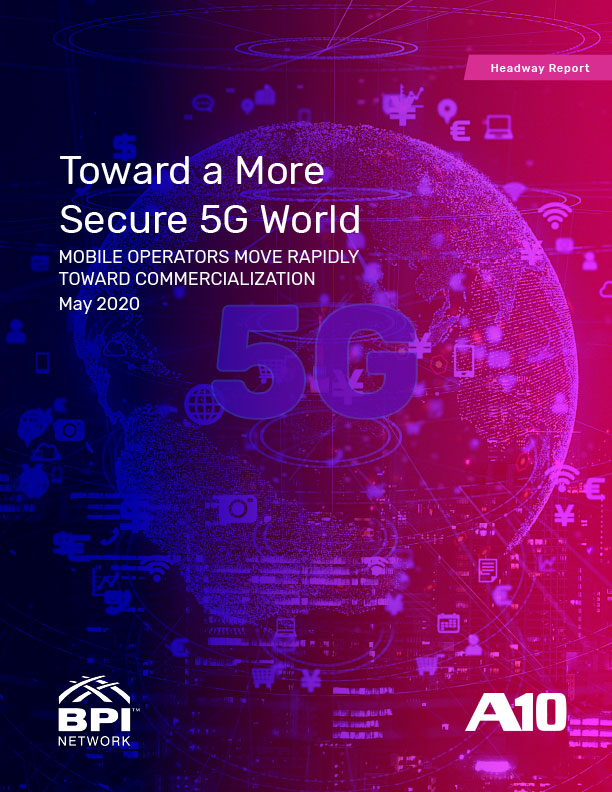 Report
Toward A More Secure 5G World
Next-generation 5G networks are widely seen as one of the most fundamental technology developments of our current century. Much has been written about the potential of these ultra-high-speed, low-latency networks to drive a new era of digital innovation, breakthrough applications, and revenue growth for mobile operators and the economy as a whole.
The industry has made great strides in global deployments of 5G networks. Where are we headed in 2020? In partnership with A10 Networks, the Business Performance Innovation (BPI) Network, conducted a global survey of communications service providers and others in mobile networking to explore industry intentions, priorities and concerns about 5G, including 5G security.
The report's new findings indicate the industry is indeed making significant progress on the first phase of 5G implementation.
Download Report
How We Can Help
Our Orion 5G Security Suite provide highly flexible advanced security at strategic locations in the mobile network, delivering unprecedented performance and scalability in software – VNFs, container, bare metal – or physical form factors as needed.
Orion 5G Security Suite

Modern, Automated Security
Guarantee uptime, and ensure control and user plane security, with GTP firewall, Gi/SGi firewall, control and user plane policy enforcement, DNS protection, security proxies (SEPP), and more
Automated DDoS protection using Artificial Intelligence (AI) and Machine Learning (ML), Dynamic Attack Pattern Recognition (DAPR), continuous baselining, and distributed intelligence
One-DDoS protection solution employs distributed intelligence for full visibility into all traffic, versus traditional sample-based only solutions. This enables all A10 infrastructure solutions, such as ADC, CGNAT, Gi-Firewall and more, to directly integrate with A10 DDoS scrubbing services on-demand
5G Hyperscale
Scale concurrent sessions to multi-billion levels and throughput to multi-terabit levels in a scale-out cluster
5G deployments can benefit from compact and efficient options, for example 220 Gbps in 1RU PNFs, or high performance 100 Gbps VNFs
Service Agility
Deliver services in a form factor that meets your network's needs, for example PNFs, VNFs, bare metal and containers
Integrate with leading SDN and NFV architectures and interoperate with multiple MANO environments for faster network rollout, optimized performance and agility
Flexible software licensing and consumption via A10's FlexPool subscription-based capacity pooling
100% API driven capabilities for all functionality on all A10 solutions for SecOps and DevOps requirements
Compliance & Analytics
Meet Law Enforcement Agency (LEA) mandates and compliance with advanced logging capabilities
A10 Harmony Controller for visibility, management, orchestration and automation
Analytics for lower TCO and reduced downtime, with actionable intelligence to track services on a per-subscriber basis
Case Study
SK Telecom Launches World's First 5G Service, Secured With A10 Thunder CFW
SK Telecom (SKT), the largest mobile operator in South Korea, launched the world's first commercial 5G service and needed to scale and secure its next-generation 5G ready network. SKT deployed Thunder CFW with Harmony Controller.
Download Case Study