FlexPool Consumption-based Licensing
Our FlexPool capacity platform allows businesses to flexibly allocate and re-distribute capacity across applications, multiple clouds, and data centers.
Discover How Capacity Pooling Works for You
A10 Networks addresses your current and future needs with its FlexPool consumption-based software model.
Flexible Allocations
Check-out, check-in licenses
User-defined instance sizes
Guaranteed capacity
Elastic instance
Investment Protection
Portable across multi-cloud
Apportion on-demand
Grow pool size on demand
Eliminate overprovisioning
Operational Simplicity
Central license management
All-inclusive, multi-services
Visibility and usage monitoring
No service disruption on upgrade
A10 Networks has you covered with FlexPool
A10 Networks

F5

Citrix

CAPACITY POOL:
Bandwidth-based floating license pool

UNLIMITED INSTANCES:
No enforced cap on number of instances supported per pool

GRANULAR INSTANCE SIZES:
Instance bandwidth granularity below 10 Mbps increments

FLEXIBLE CAPACITY ALLOCATION:
Fully selectable and user-defined instance bandwidths

MULTI-SERVICES (ALL-INCLUSIVE):
Comprehensive secure application services including Thunder ADC, CGN, datacenter firewall, SSL Insight and secure web gateway

SUBSCRIPTION MODEL:
Procure capacity pool software on annual or multi-year subscriptions

BARE METAL:
Support native deployment on commodity hardware using a capacity pool

HIGH-CAPACITY SOFTWARE:
Capacity pool option with software instances capable of 10 Gbps or more of performance

MULTI-CLOUD CAPABILITY:
Deploy software and share capacity across traditional, private and public clouds
WEBINAR
Flexibly Allocate and Distribute Secure Application Services
With the evolving nature of application deployment, it is critical that these services be dynamically allocable, fully portable, scale on-demand and procured by a simplified license. Watch how FlexPool, a software subscription for capacity planning, allows you the flexibility to allocate and distribute secure application services whenever and wherever you need them.
Register
Solutions Supported by FlexPool
FlexPool is a capacity pool license available for our software solutions, spanning virtual, bare metal and multi-cloud. FlexPool supports software services, including virtual and bare metal versions of:
FlexPool is available with Gold Support included and includes fast and efficient phone support 24 hours a day/7 days a week, plus software updates
How We Can Help
Capacity Overview
FlexPool is configured to function as capacity pool, available in 10 Gbps, 50 Gbps, 100 Gbps or custom levels in the Enterprise License Agreement (ELA) of bandwidth. Subsequent pools maybe procured and added to the original pool, on-demand, or in 10 Gbps increments. The pool can be flexible allocated to the various software instances down to 25 Mbps allotments, and granularly scaled in steps of 1 Mbps.
CAPACITY POOL
10G, 50G, 100G, Custom
Floating license pool
SUBSCRIPTION
ALL INCLUSIVE
Gold support included
Software upgrades included
No feature licenses
Infrastructure Environments
FlexPool and the vThunder suite supports a wide range of third-party environments – from virtual to cloud.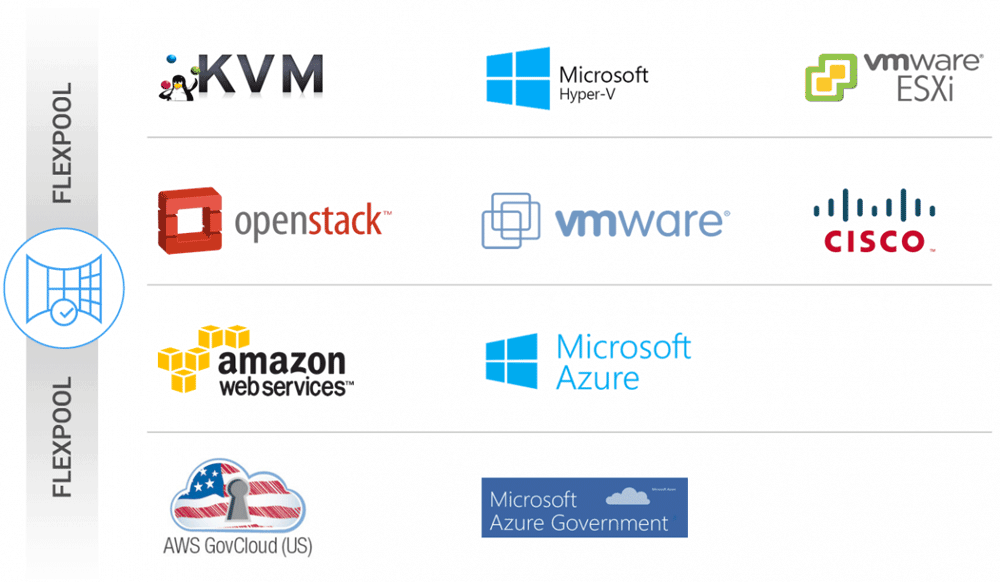 Deployment Options
SCENARIOS
SINGLE POOL: An enterprise-wide single pool to consume networking and security services. Capacity is enforced at the user and application level.
MULTI-POOL: A dedicated pool for each site. Capacity can be enforced at the pool level.
INSTANCE POOL: This model is an enterprise-wide single pool for businesses to consume networking and security services and that want to deploy a floating pool of fixed size instances.
Analytics
MANAGE FLEXPOOL AS A UTILITY: TRACK YOUR SOFTWARE LICENSE USAGE AND CONSUMPTION ANALYTICS
Insight and reporting are imperative when consuming solutions through a software subscription license. Visibility is critical for your business. You are entitled to analytics that provide a comprehensive view into the effectiveness of your capacity pool. FlexPool puts you in the driver's seat; you control your capacity and license usage.
FLEXPOOL EMPOWERS YOU TO:
Stay on top of crucial metrics to make the right business decisions
Monitor usage of licenses across your users with our Global License Manager (GLM)
Use real-time data to optimize usage of licenses and determine whether your organization is using more than the purchased number of licenses
Gain visibility into billing, analytics and audit trails through your GLM account
The GLM gathers information to help you understand your license usage.
"As organizations worldwide adopt multi-cloud strategies, they're also embracing IT as a service (ITaaS) and cloud consumption models," said Brad Casemore, Research Director, Datacenter Networks, IDC. "These customers are looking to their technology vendors to assist them in expediting these shifts. In introducing FlexPool, A10 is helping customers allocate consistent application-delivery resources dynamically and flexibly, as and when needed, regardless of how each enterprise ultimately decides to harness multi-cloud application environments."
Brad Casemore, Research Director
Datacenter Networks at IDC