IPv4 Preservation & IPv4 to IPv6 Migration
Our IPv4 preservation with carrier-grade NAT (CGNAT) and IPv6 migration technologies are proven solutions to meet your increased subscriber and IoT network expansion demands and ensure connectivity.
Scaling for Subscriber Growth is Not an Option in the Evolving Digital World
With the exponential growth of subscribers and connected devices, service providers have been investing in infrastructure to support increasing traffic growth while implementing new services to attract new subscribers and increase revenue.
Preparing for the Internet of Things (IoT) is also contributing to the demand on the infrastructure and the number of devices connected to the network. With the global exhaustion of free pools of IPv4 addresses and the continuing adoption of IPv6, service providers are facing new challenges in sustaining growth and business continuity.
Lack of IPv4 addresses
The rapid growth of the internet has exhausted the IPv4 protocol. The Internet Assigned Numbers Authority (IANA) globally manages the IP address space, the regional internet registries (RIR) manage assignment. Four of the five RIRs have effectively exhausted their allocation blocks.The alternatives for acquiring IPv4 addresses are not ideal, such as costly third-party marketplaces, long waiting lists with RIRs, and complicated mutually agreed transfers.
Inferior subscriber experiences
Expectations from users in today's always-on, always-connected world demand a seamless experience from all their devices to all their services. Traditionally, Network Address Translation (NAT) technologies can change network behavior and sometimes break specific applications.Application integrity via highly-transparent address and protocol translation (including ALGs) is needed. Also, active sessions need to be maintained during fail-over to ensure that end users will be unaware of any failures or connection terminations
Sustaining subscriber growth
While the IPv4 addresses decrease, demand for services expands. To assure sustained growth rates and the resulting network demands CGNAT systems and IPv4 transition mechanisms need to maintain high throughput, connections per second, concurrent connection rates, and more when in production environments at consistent carrier-grade levels.Sustaining growth will help reduce customer churn and avoid increased customer acquisition costs.
eBook
IPv6 – Are We There Yet?
IPv6 adoption won't be achieved overnight—but it doesn't have to be an ongoing headache. With the right approach, you can avoid IPv4 exhaustion and still enable a seamless and cost-effective migration over time to IPv6. Download this eBook to learn how to support a lifecycle strategy to avoid IPv4 exhaustion while ensuring IPv6 adoption.
Read Now
How We Can Help
Our IPv4 preservation and IPv6 migration solution has been proven in the largest networks worldwide, ensuring your network can IPv4 scale seamlessly today, while ensuring you can transition to IPv6.
CGNAT & IPv6 Transition
Industry-leading advanced CGNAT scales networks to overcome IPv4 exhaustion with NAT44(4) and ALGs to support network growth and seamless user experiences
Manage the IPv6 transition lifecycle with translation and tunneling protocols, such as NAT64/DNS64, DS-Lite, Lw4o6, 6rd, MAP-T and MAP-E
Scale, Transparency, & Security
Up to 300 Gbps of throughput and 512 million concurrent sessions in a single appliance. Scale-out for "add-as-you-grow" capability. Customizable server health checks
Operate applications transparently with ALG support, including FTP, TFTP, RSTP, PPTP, SIP, ICMP, MGCP, DNS, H.323 and ESP
Defend NAT IP address pools from targeted DDoS attacks for maximum service uptime
Software VNFs for NFV
VNFs ready for SDN and NFV
On-demand software options with virtual or bare metal form factors, and integration with OpenStack, SDN fabrics and NFV MANO
Compliance & Analytics
Advanced logging features with comprehensive, high-speed logging options and IPDR support to help meet stringent compliance and LEA requirements
CGNAT app for subscriber and network services visibility to simplify capacity planning, improve service reliability and to detect anomalous trends based on configurable metrics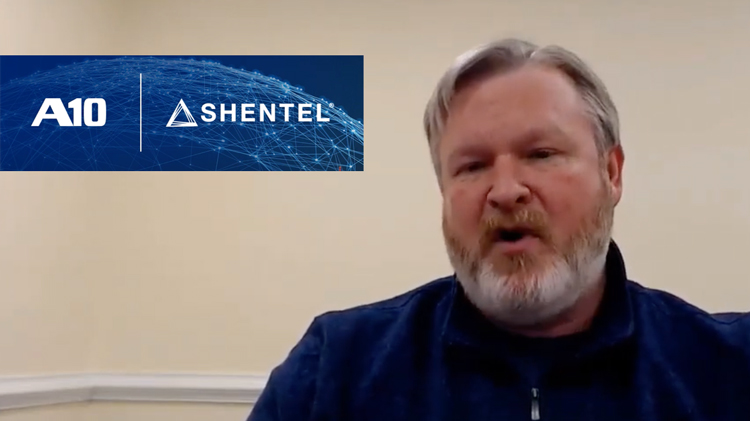 Video
Virginia Telecommunications Company Saves Estimated $2 million with Thunder CGN
Shentel Communications is the sixth largest public wireless company in the U.S., operating a digital wireless and wireline network in rural Virginia, West Virginia, Maryland and Pennsylvania. Harris Duncan, VP of Network Engineering at Shentel discusses their utilization of A10 Thunder CGN, which has allowed the company to better manage its IPv4 exhaustion problem without the need to buy IPv4 addresses on the open market.
Watch Video