Mobile Carrier Security
We help protect your mobile core and Gi-LAN infrastructure, from attacks coming in from RAN, roaming networks, and internet to ensure high network and service availability.
The Mobile Network is under attack from multiple directions
Mobile carriers are witnessing attacks not only from the internet targeting their Gi-LAN but also from the RAN and the roaming networks targeting the packet core. The mobile carriers have the challenge of defending against these attacks while maintaining an always-on network and the best possible subscriber experience.
Gi-LAN Attacks
With the mobile infrastructure moving to full IP-based technologies it is more vulnerable to attacks and intrusions coming in from the internet. The rapid increase in mobile traffic has compounded this challenge where these attacks have to be defended against in hyperscale in terms of both throughput and concurrent sessions. Additionally, the increasing use of mobile network for mission-critical applications makes it imperative to ensure high availability and high performance.
Targeted Infrastructure Attacks
Multi-vector DDoS attacks against resources, such as NAT IP pools, can negatively impact service availability and customer experience. The massive adoption of IoT device with little to no security makes them vulnerable for use in large-scale botnet attacks.
Webinar
Evolution of Security in 5G Networks
As communications service providers (CSPs) upgrade their networks to support 5G and IoT applications, new security considerations will come into play. Beyond just scaling up traditional protection against DDoS and improving SGi/GiLAN firewalls, CSPs need to take a more comprehensive view of mobile security.
This joint analyst webinar between SDxCentral and A10 Networks highlights new security and architectural considerations that CSPs must understand to protect their 5G networks.
Register Now
How We Can Help
Our comprehensive security solution for the mobile carrier networks ensures protection of your mobile core and Gi-LAN infrastructure from attacks coming in from RAN, roaming networks and internet.
Gi-LAN Security
Deploy a carrier-class Gi/SGi firewall that protects the Gi-LAN
Reduce network functions sprawl through consolidation of Gi/SGi firewall, CGNAT and application visibility and control
Advanced logging features to help meet stringent compliance requirements
Mobile Signaling Protection
Deploy GTP firewall with granular SCTP filtering to protect the packet core from attacks coming in on roaming interfaces
Securely connect eNodeB/gNodeB and MME through IPsec VPN tunnels
Integrated DDoS Protection
Defend NAT IP address pools from targeted DDoS attacks for maximum service uptime
Defend critical mobile infrastructure such as MME against DDoS attacks coming in on GTP protocol
Flexible Deployment Options
Comprehensive deployment options including physical, bare-metal, as well as virtual form factors
Interoperability with leading NFV MANO platforms and NFVI solutions such as OpenStack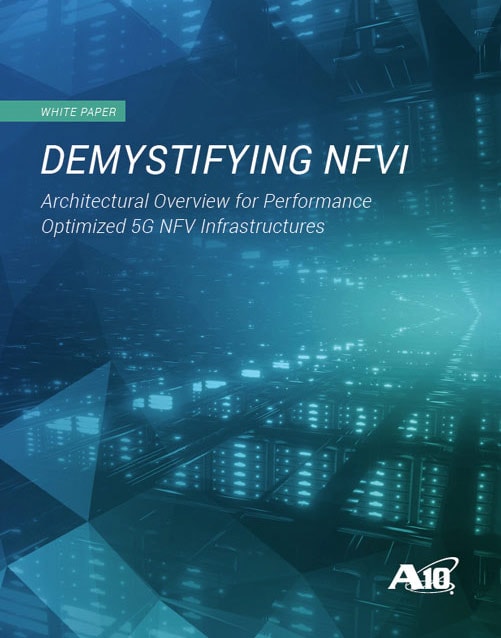 White Paper
Demystifying NFVi
Mobile network infrastructures are moving physical machines to virtualization platforms, vastly increasing operational agility and flexibility. 5G has requirements in performance and carrier grade reliabilities. This document has two goals. The first sections provide a conceptual overview of network function virtualization. The remaining sections provide a high-level view of the technology components of a server platform, focusing on performance acceleration and optimization technologies.
Download White Paper