Cloud Access Proxy
We ensure secure access to your SaaS applications, providing you comprehensive visibility and improving your users' experience
Legacy Enterprise Solutions Do Not Work Well with SaaS
As organizations grow and expand into multiple branch offices, they are forced into hub-and-spoke deployment, backhauling branch office traffic to a central security stack for inspection. The rapid increase in SaaS adoption is introducing bottlenecks and deteriorating user experience. Point solutions like SD-WAN, SWGs and CASB can alleviate some of these problems but lack cohesion, failing to provide full visibility into all SaaS and outbound application traffic.
Operational inefficiency
The hub-and-spoke model with centralized security introduces bottlenecks and latency, deteriorating user experience
Increased adoption of SaaS applications and the rapid move towards multi-cloud deployments worsens the problem
For latency-free user experience, SaaS traffic needs to be identified and routed directly to the cloud, bypassing the security stack
Incomplete security
Solutions like SD-WAN provide traffic optimization but lack security features that are essential for secure internet access
Point solutions like CASB do not provide full visibility, lack cohesion and provide partial coverage of important security features
Access control is key to stopping data transfers between sanctioned and unsanctioned SaaS applications
Disjointed visibility
With the rise in SaaS adoption, the use of Shadow IT has also increased
Bypassing SaaS traffic for traffic optimization creates a visibility blackhole
Visibility across all branches, the headquarter with the central security stack, and the cloud is important
How We Can Help
A10 Networks' Cloud Access Proxy (CAP) is a complete enterprise solution, designed specifically to help organizations optimize the performance and security of their SaaS applications, enhance user experience and provide comprehensive visibility into branch offices and the cloud.
Optimize your SaaS access
Local Breakout optimizes branch office traffic using intelligent classification and bypassing of SaaS traffic from other application traffic.
Next Hop Load Distribution (NHLD) performs dynamic traffic distribution across multiple WAN connections.
Enhance your security
Tenant Access Control prevents data theft between sanctioned and unsanctioned SaaS tenant accounts.
URL Filtering provides traffic categorization and protection from web threats.
IPsec VPN secures internet traffic that is backhauled from branches to the central security stack.
Gain comprehensive visibility
Application Visibility and Control service provides dynamic recognition and categorization, as well as filtering of application traffic.
AppCentric Templates (ACT) simplifies deployments at new branch offices, providing a 1-step configuration option as well as intuitive dashboards.
CAP Visibility and Analytics solution provides visibility across sanctioned and unsanctioned application traffic at the branch office and in the cloud.
Visibility into Shadow IT provides additional security as unsanctioned SaaS usage can be tracked.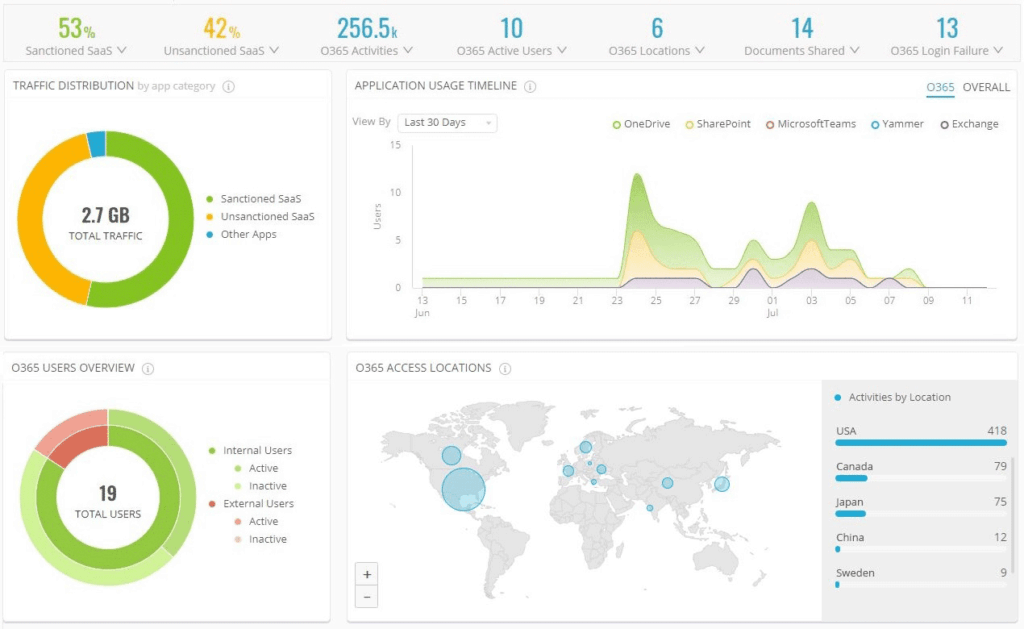 Cloud Access Proxy Visibility & Analytics Solution
Gain comprehensive visibility into all outbound application traffic and SaaS application usage, making sure that all sanctioned and unsanctioned SaaS application usage, as well as security events, can be tracked.