Third Year in a Row for A10
The ETSI Plugtest Report has just been released and once again, A10 Networks was one of the 40 organizations participating in the international program that tests NFV interoperability of key functions.
For the fourth year, European Telecommunications Standards Institute (ETSI) sponsored this event in Sophia Antipolis from June 3-June 7, 2019. The event leverages over 40 remote labs in the ETSI Hub for Interoperability and Validation (HIVE), a program that allows for multi-party interoperability testing, PoCs, demos, and API validation.
This international program enables vendors to test NFV technology with other vendors in a controlled, secure lab environment in order to assess the level of interoperability of NFV and edge solutions, while validating suppliers' implementations of NFV and MEC specifications and APIs. The program provides insight and validation to developing standards and allows vendors to perfect their own technology. The report highlights test methodology, key findings and participants, but does not include individual company test results.
This year's Plugtest focused on virtual network function (VNF) manager and orchestrators and multi-access edge computing (MEC) interoperability tests. The 2019 Plugtests report outlines highlights of the test results:
Stable results in network function virtualization (NFV) interoperability test session in a wide range of operations from on-boarding, instantiation and termination, to manual and automatic scaling from different triggers, network service updates, as well as fault and performance management.
Significant progress in NFV API conformance testing coverage and results, building on the success and learnings of the Remote NFV API Plugtests run only few months before the fourth NFV Plugtests.
First MEC interoperability test sessions. The experimental MEC track consisted of three different types of testing covering routing, application lifecycle and MEC API.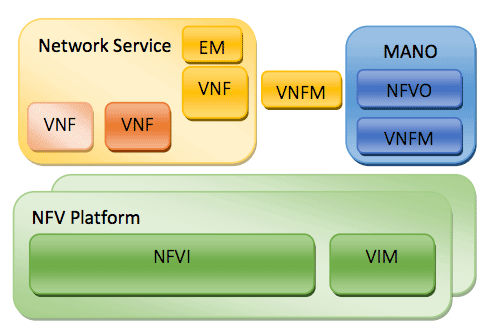 Interoperability System Under Test
A10 Networks' Participation
A10 Networks is committed to supporting service providers software strategies and providing the A10 vThunder software in a VNF package based on ETSI NFV specifications. For the third year, A10 Networks has participated in the ETSI Plugtest events to test its end-to-end VNF lifecycle operations capabilities that allow network programmability and cloud service orchestration. A10 Networks was one of only eight organizations taking part in the first MEC interoperability test sessions, implementing the role of steering mechanisms to intelligently redirect traffic. The experimental MEC track consisted of three different types of testing covering routing, application lifecycle and MEC API in six optional test sessions
A10 Networks also provided application delivery controller (ADC), carrier-grate NAT (CGN), and firewall VNFs for the testing program. Our participation in this and prior years' events demonstrates our support for operator migration into 5G and NFV.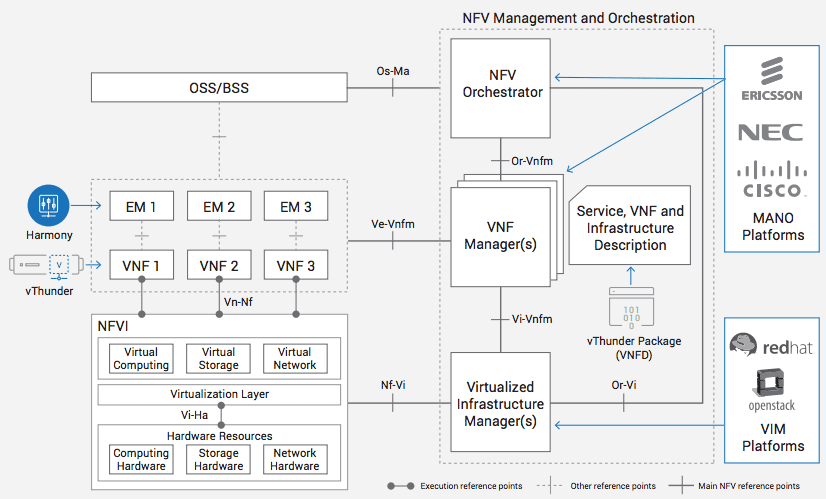 The A10 vThunder VNF solution and leading NFV-MANO solutions in an ETSI NFV-MANO architectural framework
A10 Networks tested with multiple MANO vendors, including Aarna Networks and Whitestack, as described in a recent blog post:
With Whitestack, for example, a significant number of VNFs were onboarded and network services deployed in WhiteCloud. Participants were cheerful: "We tested several VIMs during the NFV Plugtests, and WhiteCloud was not only extremely fast at the moment of instantiating the VNFs, but also proved to be very stable," said Konstantin Dunaev, consultant system engineer at A10 Networks.
A10 Networks vThunder VNF package has been integrated and validated with leading NFV-MANO solutions, including Ericsson Cloud Manager, NEC Netcracker, HQM, Cisco NSO, Red Hat Openstack and more – for full interoperability within the ETSI NFV framework.
A10 Networks provides optimized NFV technology. For more information, download the white paper "NFVi Demystified."