The time has come for enterprises around the world to face the truth: the traditional data center is dead and gone. In its place, multi-cloud, hybrid cloud and container-based infrastructures have risen.
According to research from Aberdeen shared in the ebook, "Five Questions to Ask Yourself Before You Deliver Your Applications to the Cloud," (a collaboration between A10 Networks and Aberdeen)," 33 percent of businesses have implemented a hybrid cloud, and 23 percent plan to within the next year.
What's more, 80 percent of businesses using the cloud have a multi-cloud strategy.
While cloud migration offers an abundance of benefits, from increased agility to more efficient scalability, it also presents a number of challenges for application delivery and optimization.
Here, we'll explain the nuts and bolts of those challenges, and explore the five questions companies should ask before delivering their applications to the cloud.
Ahead, you'll learn:
How a multi-cloud and microservices infrastructure has transformed the application lifecycle
Top challenges of a multi-cloud strategy
Five questions to ask before delivering your applications to the cloud
How a Multi-Cloud and Microservices Infrastructure Has Transformed the Application Lifecycle
It comes as no surprise that the widespread move to the cloud and microservices infrastructures has had a profound effect on the way applications are built and delivered.
After all, IT was traditionally built for on-premises application infrastructures. Yet, as organizations continue to adopt microservices, DevOps and agile methodologies, new stakeholders are involved in app delivery.
Under those stakeholders, applications will be delivered and optimized in new and more modern ways. Moreover, most new applications will be built on containers, according to Aberdeen.
Top Challenges of a Multi-Cloud Strategy
As multi-cloud infrastructure adoption continues to grow, companies are confronted with a number of challenges.
These are four of the most prevalent challenges cited by enterprises, according to Aberdeen:
Too much application infrastructure complexity (39 percent)
Application infrastructure can't meet growing demand (38 percent)
No end-to-end application management (30 percent)
Can't monitor the entire application environment (20 percent)
Those statistics clearly demonstrate that although companies are willing to adopt a multi-cloud strategy, the hurdles they must overcome as a result are both numerous and significant.
Download the eBook
The data center is being replaced by multi-cloud, hybrid, and container-based infrastructures. These changes present challenges in how businesses deliver and optimize the traffic flow for their applications.
Five Questions to Ask Before Delivering Your Applications to the Cloud
To get a clear view of the challenges you might face when migrating your apps to the cloud, ask yourself these five key questions:
1. How do I keep track of all my applications in one place?
If applications are running in multiple environments across multiple clouds, it makes sense that they'll be more difficult to monitor than if they were in a single data center.
So, you need to determine how you'll gain visibility into application health and performance from one central location.
Solution: Visibility and analytics.
Advanced load balancing keeps your apps running with efficiency and reliability. Powered by machine learning it can:
Set baselines for application performance, user behavior and more.
Provide superior visibility into which assets are doing well and which may be due for an overhaul or have reached end of life.
Enable faster troubleshooting so there are fewer interruptions.
Automatically detect anomalies for proactive and predictive responses.
Improve the user experience.
Businesses that succeed in application delivery are 40 percent more likely than competitors to have complete visibility into their application usage and performance, according to Aberdeen.
2. Are my applications safe in a multi-cloud environment?
When applications are delivered in a multi-cloud environment, they're subject to a great deal of traffic, and that traffic may contain any number of threats. WhiteHat's 2018 Application Security Statistics Report put it best:
The number of serious vulnerabilities continues to increase at a rate that makes remediation nearly impossible, if teams continue to rely on traditional methods.
That's backed up by the report's finding that the "window of exposure" (i.e., the amount of time during which applications are vulnerable to attack) increased by 33 percent in just one year.
Because of this, maintaining application security is an ongoing challenge for most organizations.
Solution: Maintain consistent security and compliance.
With the rise of 5G, the internet of things (IoT) and a number of other technological advancements, cyber attacks are only growing in scale and breadth.
Thus, security is a shared responsibility in the public cloud — enterprises can't simply rely on cloud providers for total security.
But, bolt-on security solutions are often complicated and difficult to configure. Instead, successful companies seek out security solutions that can be integrated into their load balancer.
Aberdeen found that leading companies that implement improved application delivery solutions are 20 percent more likely to report better application security.
3. Should I consider private and hybrid clouds?
Cloud infrastructures are not one-size-fits-all. Rather, companies need to consider their individual needs before committing to private cloud or hybrid cloud.
To ensure that you choose the right cloud solution for your business, you'll need to develop precise requirements and evaluation criteria.
Also remember to take automation into account — without it, adoption can become its own challenge.
Solution: Deploy intelligent automation.
In modern multi-cloud and microservice-based architectures, integration and automation are now a necessity.
With the ability to automate the application delivery, security and load balancing solutions they have in place, organizations can:
Save time
Increase accuracy
Improve business efficiency
Aberdeen revealed that companies with intelligent automation are 90 percent more likely to see faster application issue resolution, which translates to a better user experience.
4. How do I manage the complexity and cost?
IT teams can't immediately move from an on-premises infrastructure to a multi-cloud strategy. To be successful, they'll need to develop the skills needed to efficiently deliver and manage applications in the cloud.
However, those skills aren't easy to learn, and companies can't simply hire new talent. According to a 2018 report from OpsRamp, 94 percent of IT organizations are struggling to find the talent they need to build the flexible, dynamic and cost-effective cloud services they want.
As businesses work to build and recruit the right cloud talent, they also need to find a realistic way to manage the complexity and cost associated with cloud migration.
Solution: Keep management centralized.
In a multi-cloud and microservices infrastructure, traffic is flowing between many locations at once. Managing that traffic can turn into a headache and a time drain, especially for teams that are still developing their cloud skills.
To effectively manage all that traffic, leading companies turn to centralized management systems. Such systems deliver operational efficiency across multiple environments by:
Reducing administrative workloads
Providing powerful and granular policy control from a single location
Aberdeen research shows that 80 percent of leading organizations are more likely to be able to centrally manage applications. This indicates that centralized management is a key component of a successful multi-cloud and microservices infrastructure.
5. What do I need to enable optimized and flexible application portability and performance?
According to LightStep's 2018 Global Microservices Trends Report, 91 percent of organizations are using or plan to use microservices.
What's more, the 2018 Container Adoption Survey from Portworx revealed that 83 percent of companies are running container technologies in production.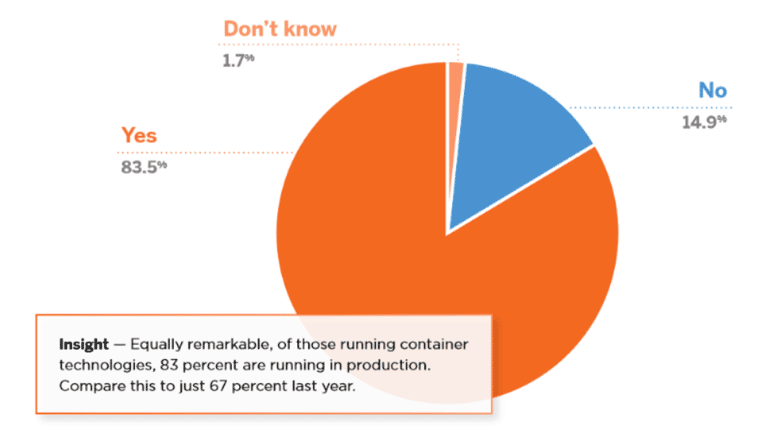 Solution: Simplify and enable application portability.
As companies use containers and microservices for increased flexibility, scalability and automation to manage application performance, they also need to implement systems that bring improved traffic management and optimization.
How Effective Application Optimization and Load-Balancing Services Can Lead to Success in the Cloud
As companies shift their applications to a multi-cloud and microservices infrastructure, they must also change the way they approach advanced application load balancing.
These are the three most important components of advanced load balancing:
1. Analytics designed for today's infrastructure
With applications scattered across multiple environments, it's vital for companies to maintain full visibility and detailed analytics that can be viewed from a single source. That way, they can isolate issues as they arise and optimize application traffic.
2. Application management for agile practices
Agile methodologies are becoming increasingly common. In 2019, CollabNet VersionOne's 13th annual State of Agile survey, 97 percent of respondents said their organizations practice agile development methods.
However, traditional application management solutions can create bottlenecks and slow down application deployment. This directly conflicts with the quick, iterative nature of agile development.
Knowing this, it's clear that agile-friendly application management is a must. Namely, centralized management and automation. With those two management solutions in place, businesses can speed up agile delivery across multi-cloud environments.
3. Prepare for future application platforms
It's plain to see that technologies are advancing at a breakneck speed with no signs of slowing.
To use new technologies more effectively and stay ahead of the curve, companies should leverage application load balancing that is compatible with containers and a multi-cloud environment.
By asking yourself the five key questions outlined above and exploring the solutions we've offered, your company can deliver applications to the cloud with the efficiency and reliability that advanced load balancing provides.
This article is based off of our new ebook in collaboration with Aberdeen: "Five Questions to Ask Yourself Before You Deliver Your Applications to the Cloud."