Cloud Application Security Solutions
We help you gain the analytics, automation, and agility to protect your business and ensure performance and security of your applications in any cloud or container environment.
REQUEST DEMO
Private and public cloud
Build highly available and secure application services on public cloud services platforms, such as AWS, AWS GovCloud, Microsoft Azure and Google Cloud Platform, or private clouds with A10 solutions that run atop your choice of hypervisor.
Hybrid multi-cloud architecture
Deliver secure applications in traditional data centers, and integrate with public and private clouds, as needed. Unify your ADC solution with public cloud infrastructure to extend consistent features across your physical, virtual, container and public multi-cloud computing environments.
Public Cloud
Advanced load balancing, application security and insights into traffic are most important aspects of application delivery. Large applications deployed in public clouds can't rely on basic application delivery capabilities provided by cloud providers. Deploying multiple point products becomes an operational challenge.
LEARN MORE
Private Cloud
Organizations wanting to take advantage of the cloud, but operated with the trust and controls of their own team, are creating their private cloud. Deploying an integrated application delivery controller (ADC) with secure, high performance, and advanced load balancing capabilities ensures stellar user experience.
Learn more
Thousands of Enterprises and Service Providers choose A10 Networks










Options for Choosing an Application Delivery Controller Solution in AWS
Deploying applications in the cloud introduces myriad questions. One of which is: will you deploy in just one cloud, like AWS, or in multiple clouds? Whichever path you choose, it's likely your application will require load balancing, or the services of an application delivery controller (ADC). Here we'll examine your ADC options for applications fully or partially deployed in AWS.
download the white paper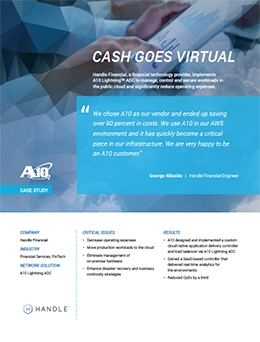 Handle Financial
Handle Financial, a financial technology provider, implements A10 Lightning ADC to manage, control and secure workloads in the public cloud and significantly reduce operating expenses.
Download Case Study
Let Us Help
Learn why thousands of businesses trust A10 Networks to protect and deliver their mission-critical applications