Cloud Application Security Solutions
We help you gain the analytics, automation, and agility to protect your business and ensure performance and security of your applications in any cloud or container environment.
Build Your Own Cloud
Private and public cloud
Build highly available and secure application services on public cloud services platforms, such as AWS, AWS GovCloud, Microsoft Azure and Google Cloud Platform, or private clouds with A10 solutions that run atop your choice of hypervisor.
Hybrid multi-cloud architecture
Deliver secure applications in traditional data centers, and integrate with public and private clouds, as needed. Unify your ADC solution with public cloud infrastructure to extend consistent features across your physical, virtual, container and public multi-cloud computing environments.
Public Cloud
Advanced load balancing, application security and insights into traffic are most important aspects of application delivery. Large applications deployed in public clouds can't rely on basic application delivery capabilities provided by cloud providers. Deploying multiple point products becomes an operational challenge.
Learn More
Private Cloud
Organizations wanting to take advantage of the cloud, but operated with the trust and controls of their own team, are creating their private cloud. Deploying an integrated application delivery controller (ADC) with secure, high performance, and advanced load balancing capabilities ensures stellar user experience.
Learn More
Thousands of Enterprises and Service Providers choose A10 Networks










Report
Digital Resiliency and Hybrid Cloud Drive Need for Modern Application Delivery
As organizations pursue a hybrid cloud strategy to bolster digital resiliency, they are finding that foundational infrastructure can make or break the realization of their plans. This new IDC Technology Spotlight explores the application delivery infrastructure, which must be reassessed and modernized to support effective multi-cloud migrations and hybrid cloud initiatives.
32% of organizations cited integrated network and security management as a permanent NetOps change made during the pandemic. Modernized application delivery infrastructure is essential for hybrid cloud success.
Download the Report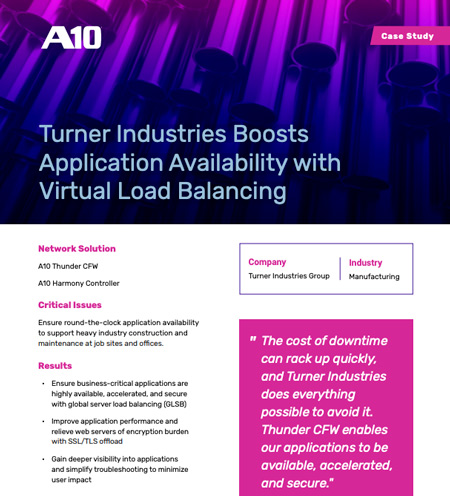 Case Study
Turner Industries
Turner Industries implements A10 Convergent Firewall (CFW) to enable global load balancing so that applications are always delivered swiftly and securely.
Download Case Study