Blog
Turner Industries Ensures Application Availability with Global Server Load Balancing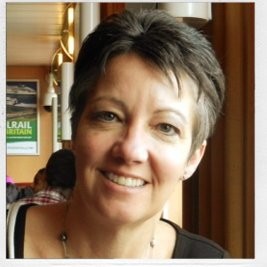 |
---
Leading Industrial Construction Contractor Boosts Application Availability with A10 Networks Thunder® CFW
Oil refineries, chemical plants, and paper mills operate continuously, and so do companies like Turner Industries that serve heavy industry. Turner Industries is expert in construction, maintenance, and plant turnarounds. Turner Industries is also a digital innovator, using technology to empower its clients to make data-driven decisions, reduce costs, safe time, and maintain a safe working environment.
"The heavy industry sector never stops," says Chris Milton, technology manager at Turner Industries. "Providing high availability uptime for our applications is critical."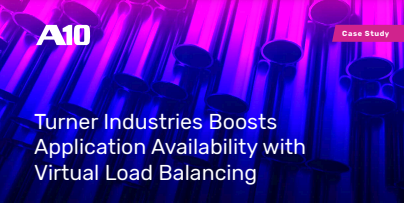 Turner Industries Boosts Application Availability with Virtual Load Balancing
They ensured round-the-clock application availability to support heavy industry construction and maintenance at job sites and offices.
Ensure Application Availability to Support Continuous Operations
Turner Industries is headquartered in Baton Rouge, La., close to its many energy customers, but also in the path of increasingly frequent hurricanes. Turner Industries wanted to mitigate the risk of unpredictable weather and ensure continuous operations.
Turner Industries built a state-of-the-art data center in Houston, in addition to its data center in Dallas. It needed a global server load balancing (GSLB) solution to ensure the availability and security of its proprietary and commercial applications.
Turner Industries worked with Sirius, a Houston-based national technology integrator, to select A10 Networks Thunder CFW virtual appliance for flexible and secure application delivery from its data centers.
"We wanted to ensure high availability for every application we deploy," says Milton. "Thunder CFW securely delivers all of our applications to our offices and frontline workers in the field."
Thunder CFW is a high-performance and cost-effective approach to meet Turner Industries' integrated security and application needs. Thunder CFW unifies IPsec VPN, firewall, and application delivery controller (ADC) capabilities, Turner Industries can both load balance traffic and protect data center services and applications from threats. In addition to ensuring application availability, Thunder CFW enhances the users' application experience by minimizing latency.
A10 Harmony® Controller, A10 Networks' centralized management and analytics solution, provides deep per-application visibility and comprehensive controls for secure application delivery. Real-time analytics provide visibility and actionable insights into application performance to simplify troubleshooting.
Helping Energy Companies Work Smarter and Faster
More than 4,000 Turner Industries employees in 12 offices, as well as 15,000 technicians and supervisors on job sites can count on secure, responsive, and highly available applications. Thunder CFW provides the company with secure application delivery and global server load balancing.
"The cost of downtime can rack up quickly, and Turner Industries does everything possible to avoid it," says Milton. "Thunder CFW enables our applications to be available, accelerated, and secure."
From field operations to headquarters, workers rely on always-available access to applications for job estimation, personnel logistics, project control, plant improvement, and risk quantification. Onsite supervisors use custom mobile apps to manage safety and regulatory compliance and streamline workflows. Employees also rely on a variety of productivity, administrative, and enterprise applications for everyday business operations.
How cloud-ready and modernized are your application services?
Take this brief multi-cloud application services assessment and receive a customized report.
Take the Survey