Glossary of Terms
What is Global Server Load Balancing (GSLB)?
For companies to deliver the best possible experience to users, they need to ensure always-on connectivity and reliable performance for business applications whenever and wherever they're accessed. Global server load balancing (GSLB) helps you meet this requirement by providing load balancing, site failover, and web traffic management across multiple data centers and/or clouds. A core feature of a modern application delivery controller (ADC), GSLB plays a key role in use cases from disaster recovery, to application performance and application availability, to regulatory compliance.
As its name suggests, GSLB balances network traffic across an organization's data centers. As client traffic accesses the organization's services, it is routed intelligently by the GSLB system to the most appropriate data center site. To perform this function, a GSLB system typically monitors the health, availability, and loading for each data center; calculates client geographical locations based on their ISP DNS server address; and applies any other policies that have been configured around regulatory requirements and content localization. Traffic policies can also take into account factors such as bandwidth utilization, network costs, exceeding bandwidth thresholds, and others.
A GSLB system can be deployed as flexibly as the ADC that hosts it—in an on-premises data center, private cloud, or public cloud environment, whether as part of a hardware appliance or in virtual form.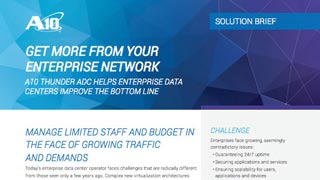 Get More from Your Enterprise Network with Global Server Load Balancing (GSLB)
If your company operates multiple data centers, A10's GLSB solution can provide disaster recovery by directing traffic to an active data center in the case of an unforeseen event. Learn how a GSLB can optimize your datacenter.
Why your Application Delivery Controller Needs GSLB
Just as load balancing is essential to process application traffic intelligently across a server pool, GSLB is essential to distribute traffic intelligently across multiple data centers and clouds. This capability comes into play in several key use cases.
Disaster recovery – Whether a site fails due to an unexpected power outage, natural disaster, or other incident, or becomes inaccessible due to scheduled maintenance, the organization needs to ensure uninterrupted service availability for users. GSLB plays a critical role in disaster recovery by routing traffic to backup sites and other alternate resources, helping the organization avoid costly downtime.
Application performance and application availability – If web traffic isn't distributed appropriately across data centers, one site might become oversubscribed while another is underutilized. This can result in poor service for some users as well as the risk of a service disruption due to overflow. In addition, the proximity of the user to the server can greatly impact network latency, making site selection a key element of service quality. By providing intelligent web traffic management, a GSLB system ensures that the load is balanced more evenly across sites while also routing content to each user from the nearest available server to ensure an optimal experience.
Geographically aware content delivery – Many organizations face mandates regarding the geographic location of data storage and processing. For example, the General Data Protection Regulation (GDPR) dictates that EU-based users must be served by local servers for certain application requirements. A GSLB system can be configured to use specific data centers to serve users in specific regions, simplifying compliance with this rule. This capability also makes it possible to provide localized service to a global user base by forwarding requests to servers that host content customized for relevance in the user's country and written in the national language.
Key Global Server Load Balancing (GSLB) Features
Global Web Traffic Management
A GSLB solution should intelligently distribute application requests based on site health, proximity, geo-location, and response times to maintain consistent service. To enable content and language localization, requests can be forwarded to servers hosting customized content.
Security and Compliance
Organizations should be able to control traffic for security and regulatory purposes by applying custom policies based on geo-location information.
Global Server Load Balancing (GSLB) Ensures Application Availability and Performance
A10 Networks global server load balancing features are incorporated across our application delivery controller portfolio. Offered in your choice of DNS Proxy or DNS Server methods, these solutions help you ensure application availability and application performance with minimal impact to your existing DNS architecture.
< Back to Glossary of Terms