What is a Private Cloud?
Private Cloud Offers the Benefits of Ownership—with Some Drawbacks
A private cloud is a cloud computing model that is very similar to a public cloud, but provisioned over private IT infrastructure for the exclusive use of a single organization. Hosted either on corporate premises or within an isolated third-party environment, a private cloud combines the self-service, scalability, and elasticity of a public cloud with the security, control, and customization of an enterprise data center.
At the same time, the staffing, management, and maintenance of a private cloud remain the responsibility of the company's IT department, along with the associated costs, rather than being shifted to a third-party public cloud provider. As a result, the financial benefits of cloud computing may be somewhat reduced with this approach.
Private cloud can also be referred to as enterprise cloud, corporate cloud, or internal cloud. The term virtual private cloud (VPC) is sometimes used interchangeably with private cloud, though in practice a VPC is delivered over a third-party cloud provider's infrastructure, often co-located alongside other VPCs within a public cloud, rather than over internal infrastructure.
How A10 Networks Supports Private Cloud
Private cloud application delivery offers agility, control, and scale, but can pose challenges around complexity, visibility, and security. A10 Networks Thunder® Application Delivery Controller (ADC) helps organizations provide users with secure and reliable experiences when accessing applications hosted in private clouds through advanced load balancing, traffic management, security, and analytics capabilities
Private Cloud Articles of Interest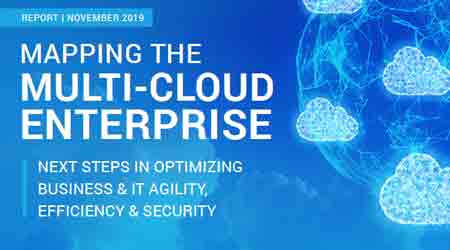 Mapping the Multi-Cloud Enterprise
The BPI Network surveyed some 127 technology and business leaders to gather the insights for this study. Our survey findings make it clear that most organizations are moving rapidly into the multi-cloud world. And they expect this transformation to accelerate in the months and years ahead, as they move more of their core applications and data into the cloud.
Do it with A10 Lightning ADS!