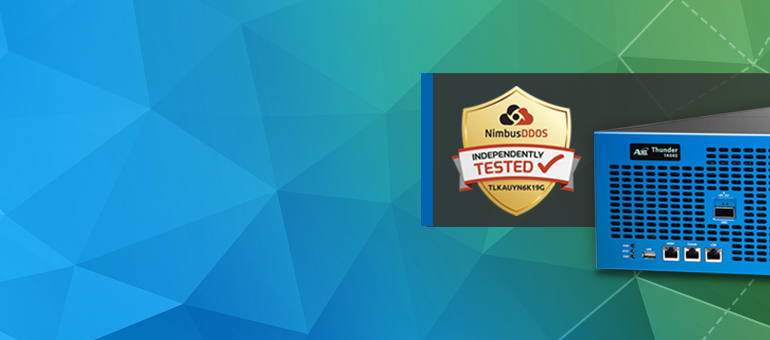 We are proud to announce that our Distributed Denial-of-Service (DDoS) protection product, Thunder TPS, has achieved NimbusDDOS certification for defense efficacy. A10 Networks' product is the first of its kind in its industry to receive this recognition.
The NimbusDDOS Certification
NimbusDDOS is a DDoS penetration testing company. It provides vendor-neutral DDoS defense testing services, including cloud-based DDoS testing services.
In fact, it's NimbusDDOS's use of the cloud as a delivery system that sets it apart from traditional testing companies. The company primarily works with enterprise clients who want to understand their exposure to attacks and existing defense systems.
Our NimbusDDOS certification validates that our Thunder TPS effectively defends you against real attacks seen "in the wild" at scale, including but not limited to:
UDP flood (volumetric)
NTP amplification(volumetric)
TCP ACT flood large packet (volumetric)
CLDAP amplification (volumetric)
DNS amplification (volumetric)
SYN flood (protocol)
DNS query flood (layer-7)
HTTP(S) GET request flood (Layer-7)
In order to secure certification from NimbusDDOS, A10's Thunder TPS product was assaulted with multi-vector DDoS attacks (representing 95 percent of those seen in the wild today) from NimbusDDOS's cloud-based attack simulation platform.
Thunder TPS correctly detected, classified and mitigated the attacks while also ensuring that legitimate user traffic experienced no degradation or dropped packets.
What the Certification Means for You
DDoS attacks are rising at an alarming rate. In response, the market for applicable defense tools and services is also growing quickly.
For vulnerable businesses, the need to quickly select DDoS protection is clear. Yet, making this urgent and not inexpensive decision can be daunting without knowing how a solution performs in the real world. Further, you may not have the capacity to perform thorough testing yourself.
With the NimbusDDOS certification, A10 and its Thunder TPS product stands out as a highly effective defense system if you're in communications services, gaming, enterprise and other sectors.
Perhaps more importantly, NimbusDDOS's status as vendor-neutral testing company makes its certification more reliable than performance data provided by vendors themselves.
Whether you're considering your first DDoS protection product or switching from an existing system, certification from NimbusDDOS positions Thunder TPS and A10 as a proven solution. It's a modern response to attacks that, while not new, are constantly changing and increasing.
For more information on A10's Threat Protection System (TPS™) and DDoS protection, please contact us by phone or through our information request form.