Blog
Faster, More Affordable Than Citrix & F5 ADC SSL Offloading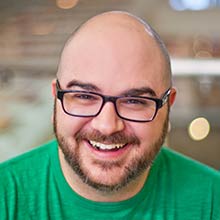 |
---
Traditionally, if you were looking for Application Delivery Controller (ADC) and server load balancing SSL offload solutions that were faster, better and more affordable, you were forced to pick two of the three. If you wanted faster and more affordable, you had to pay out the nose. If you wanted better and more affordable, you sacrificed speed. And so on.
Not anymore.
Faster Than the F5 SSL Offloading Solution
Our new advanced SSL solutions allow you to process advanced SSL encrypted traffic, at blindingly fast speeds. In fact, it features faster SSL decryption and SSL inspection than anything else on the market in a compact 1U appliance form factor.
Let's compare.
SSL Connections Per Second During SSL Offloading
In our internal testing using the cipher TLS_ECDHE_ECDSA_WITH_AES_128_CBC_SHA256 with a 384-key length for EC, we found the A10 Networks Thunder 4440S Application Delivery Controller (with the latest third-generation SSL processor) delivers a connections per second (CPS) rate that's up to 100 percent faster than comparable solutions from F5 BIG-IP for the majority of the object size common on the internet. The majority of the Internet objects, including images, being less than 50KB, the exception being videos, which are generally more than 50KB.
The Thunder 4440S clocks in at a swift 44,000 CPS for 128B file sizes; 38,000 CPS for 5KB files; 33,000 CPS for 16KB files; and 2,300 for 512KB.
When stacked against comparable boxes from our competitors, like the F5 offloading solution BIG-IP or Citrix NetScaler, there's no question A10 delivers unrivaled speed.
For example F5 reported in its in-house testing against our older generation solution, that its BIG-IP i7800 delivers CPS rates of 27,243 for 128B; 27,077 for 5KB; 26,573 for 16KB; and 5,251 for 512KB.
And F5 said Citrix NetScaler 14080 delivers CPS rates of 5,103 for 128KB; 5,087 for 5KB; 5,060 for 16KB; and 2,156 for 512KB.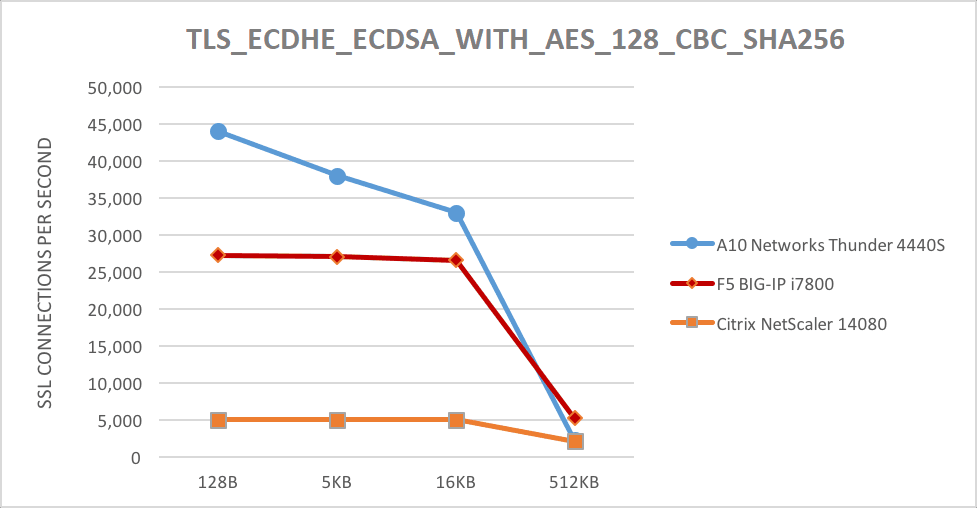 SSL Offload speed of A10 Networks' Thunder ADC compared to F5 BIG-IP and Citrix NetScaler
Better SSL Offloading
Powered by the latest advanced SSL chipset for our updated Thunder® Application Delivery Controller (ADC) appliances, performance is dramatically enhanced, and capable of delivering support for compute intensive modern encryption methods in hardware. There's no need to worry about the SSL Offloading performance impact of evolving ciphers effecting your apps, and your reputation with your customers.
SSL Bulk Throughput
The Thunder 4440S also beats the competition in terms of bulk throughput.
For the same cipher key length, the Thunder 4440S in testing clocks in at 25 Gbps of bulk throughput, compared to F5 BIG-IP i7800 testing, which delivers 20 Gbps, according to each product's data sheet. That gives A10 an edge of 25 percent when it comes to bulk throughput.
This empowers organizations to securely process bulk SSL traffic at the highest rates.
More Affordable Than F5 BIG-IP and Citrix NetScaler
These advanced SSL offloading solution offerings are also available with SSL modularity options for many existing models, which means when new functionality or capacity is needed you can upgrade the card to enjoy the performance and scalability boosts. This, too, is not available with leading Application Delivery Controller competitor's hardware appliances.
This ensures you can scale to accommodate future traffic without a forklift upgrade to replace the whole appliance. It's true investment protection and makes A10 more cost-effective than the F5 SSL offloading solution.
Because of its SSL modularity, you're immediately reducing your TCO and the ROI is rapid. And you're getting a clear upgrade path for when you determine you need advanced SSL functionality – you can purchase Application Delivery Controller appliances now, and upgrade with the latest SSL functionality in the future.
The ability to process SSL transactions faster coupled with a more economic hardware option, and you get a better dollar per connection and bigger bang for the buck. Our competition can be two to three times more expensive on a cost per-SSL connection basis with an ECC cipher set.
Be Ready for the Future
The amount of SSL encrypted traffic on the Web continues to boom, and ecommerce companies and app developers are encouraged to use the newest modern encryption methods to protect applications and customer information. Businesses face the challenge of addressing their current SSL encryption and SSL decryption needs while planning for the future, all while avoiding the performance hit that often comes with SSL deployments.
A10's Thunder® Application Delivery Controller (ADC) SSL Offloading solution answer the call. They arm organizations with the power to process SSL encrypted and inspect SSL traffic today, tomorrow and beyond, and to do so more quickly and at a better price point without sacrificing performance.
Ultimately, it's SSL decryption processing that's faster, better and more affordable.