Sharpening the Competitive Edge: Are We Ready to Compete, Deter, and Win Globally?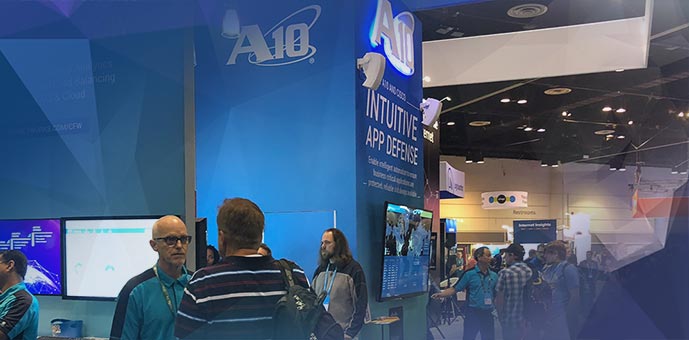 AFCEA WEST 2019
Visit A10 Networks in Booth 720 • San Diego, Feb. 13 – 15, 2019
Military and government agencies need solutions that not only fortify their networks and combat increasingly sophisticated threats, but to also modernize their infrastructure to alleviate management and operational headaches. Co-sponsored by AFCEA and the U.S. Naval Institute, WEST 2019 will address these pressing challenges and dig deep into solutions that will enable military and government agencies to "Compete, Deter, and Win…"
The conference agenda includes timely sessions such as Interoperability with Joint and Coalition Partners and Dynamic Force Employment: Are We Ready to Fight and Win? And it features keynotes and presentations from, among other notables, Thomas B. Modly, Under Secretary of the Navy, James F. Geurts, Assistant Secretary of the Navy for Research, Development, and Acquisition, and Ellen M. Lord, Under Secretary of Defense for Acquisition and Sustainment.
A10 Networks at WEST 2019
A10 Networks will be on hand to demonstrate our latest solutions and show how they leverage machine learning and AI to automate and fortify defenses for today's increasingly complex environments. Machine learning drives unprecedented analytical insights, while automation correlates and leverages those insights to proactively defend networks and make IT teams more nimble.
Solving Critical Challenges @ Booth No. 720
Come see demos of state-of-the-art solutions for defending against malicious threats hidden in encrypted traffic and for securely managing applications in distributed environments. Without impacting network performance, Thunder SSLi inspects and breaks SSL/TLS traffic that adversaries often exploit to launch stealthy, hidden attacks. And Harmony Controller, Lightning ADC, and Thunder ADC combine to provide visibility, agility, and control — including per-app analytics — over applications in multiple and hybrid clouds, as well as on-premises.
See You in San Diego
Be sure to stop by our booth to see how A10 Networks leverages machine learning, AI, and automation to help military and government agencies root out sophisticated threats and regain control of their environments.
WEST 2019
February 13 – 15
San Diego Convention Center
A10 Networks Booth 720
San Diego, CA