Connecting Rural America – Service Provider Cost and Capacity Challenges

Regional service providers, spurred by recent FCC funding, are building out networks to extendcoverage to underserved communities. One critical area that can be overlooked is the need to provide IPv4-IPv6 connectivity.
Join this webinar with Patrick Stevenson from Shentel, a premier telecom and internet service provider, and Terry Young, Director of Service Provider Marketing at A10 Networks.
Presenters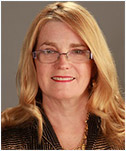 Terry Young
Director of Service Provider/5G Marketing,
A10 Networks
Patrick Stevenson
Sr Network Engineer
Shentel