Blog
How Service Providers Win: Part 1 – Prepare for What's Next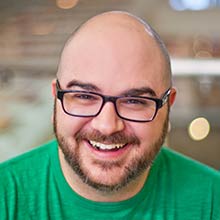 |
---
In this eight-part series, we examine the myriad ways service providers can get an edge over their competition, launch and monetize new services, attract new customers and, ultimately, increase revenue. Essentially, we discuss how service providers can win in this ever-evolving environment.
Standing still is the kiss of death for any service provider. If you fail to evolve, your competition advances. Ultimately, you're either left in the dust or rendered obsolete.
It's imperative for service providers to always look several steps ahead.
Planning for the next technology shift or solution set that helps you optimize you network and your applications will lead to improved and modernized service offerings and new customers. This, in turn, can spark a boost in revenue.
Start Now
Service providers now face their biggest challenges when it comes to service diversification and differentiation — what are you doing that the others are not? And while it's a hurdle, it's also a great opportunity to take charge and pull ahead of the pack.
The ability to seamlessly update your networks to prepare for the shift to 5G, the evolving cyber security threat landscape, the massive number of Internet of Things (IoT) devices that will soon connect and the transition to IPv6 will put you out front.
Now more than ever, customers want instant gratification. If a service suffers even the smallest of hiccups or falls behind the curve, that's a blemish that may never clear. Scalability, high-performance and availability aren't nice to haves, they're must haves. And your customers will tell you so — often and with their wallets.
Future-Proof
So what can you do as a service provider to future-proof your network and prepare for what's next? Here are four steps:
1. Get ready for 5G: The transition to 5G is coming. Soon. Along with the promise of reduced network latency and much higher data rates, such as the ability to download an entire movie in seconds versus minutes, 5G brings with it a massive influx of connected IoT devices that can pose serious security threats. Start planning for the transition to 5G now to ensure your network is up to snuff.
2. Preserve IPv4 addresses: As you prepare for IPv4 exhaustion and migration to IPv6, you must have a plan in place. Service providers need solutions that not only preserve your pool of IPv4 addresses, but also provide a seamless migration path to IPv6. By extending the service life of your IPv4 infrastructure, you'll buy yourself time to plan for IPv6 while reducing costs by avoiding disruptions to business operations.
3. Focus on scale: Increase the availability and operational efficiency of your applications by implementing solutions that auto-scale as services demand increases. Nothing will hurt you more than service disruption due to popularity. Don't let your success be your failure. Scale will also be a factor when more devices start connecting to your network when 5G comes fully online.
4. Think security first: Can you afford downtime or disruption due to a DDoS attack? Remember, a security breach not only costs you downtime, but also reputation damage and customer churn. Ensure you have the proper security in place to protect against volumetric DDoS attacks. In this era of massive, multi-vector attacks, service providers should find solutions that scale to defend against attacks that exceed 1 Tbps.
Are you and your service provider network ready for what's next?
To discover first-hand how A10 Networks delivers innovative secure application delivery services for the world's top service providers, contact us today.
Eight Part Series