5G: The Slope of Enlightenment
Upon completing my first quarter with A10 Networks, I looked back to assess the last three months and all of the meetings, conversations and collaborations I have had the pleasure to have with our customers, partners and sales teams. And I am more excited than ever that the company is on a strong trajectory to help our customers on their journey to 5G.
One would ask why so allow me to explain. While we have industry-leading products in various segments, it is important to hit a technology adoption cycle at the right time. 5G happens to be one of those technologies that, according to some reports, will garner trillions of dollars in investment over the next decade.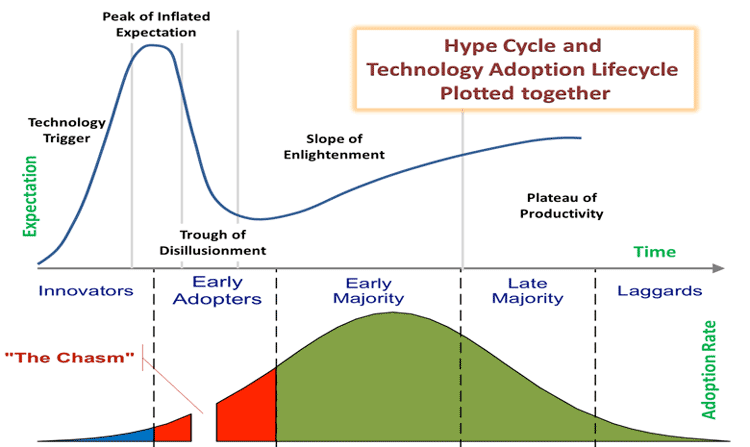 Combines the Hype Cycle model as described by Gartner and the Technology Adoption Lifecycle model popularized by Geoffrey Moore in Crossing the Chasm
If you look at the figure above that illustrates the technology hype cycle and technology adoption lifecycle, we are at roughly the trough of disillusionment on 5G technology. Over the past couple of years, we have seen wild predications of the amount of investment to come to 5G, subscriber ramp-up and potential use cases. That was the climb to the peak of inflated expectations with various 5G trials across the world. Over the past year, some of the realities have set in and the air is slowly being let out of the bubble, and a more realistic approach is being taken – to a slow evolution and adoption of 5G.
Service providers in Korea were the first in the world to launch commercial services last month and they are using A10 Networks technology. These initial launches will use a non-stand-alone (NSA) approach. This means that the radio access network (RAN) is going to be upgraded to 5G new radio (NR), while the backend core network will still be 4G enhanced packet core (EPC), upgraded for control and user-plane separation (CUPS), and it will be called a 5G EPC. This will help solve the last-mile bottleneck (at the RAN) to support enhanced mobile broadband (eMBB) use cases, such as watching 4K video on your smartphone.
However, supporting ultra-reliable, low-latency communication (uLLC) use cases, such as augmented reality, self-driven cars, remote surgery, etc., or massive machine-to-machine communication use cases, such as smart homes, factory automation, etc., requires an overhaul of the wireless core network from purpose-built devices hosting monolithic applications (e.g., mobility management entity (MME)) to modularized micro-services (e.g., user-plane function (UPF), authentication service function (AUSF), etc.) running in a cloud environment. These micro-services chained together will dynamically provide a service to the subscriber. This transition is similar to what the enterprise world has gone through over the last decade and half, where monolithic applications running in a private data center were rearchitected as modularized software-as-a-service (SaaS), running over public clouds / private clouds / hybrid clouds with the ability to be accessed from anywhere on any client without having to go through corporate network. This transition helped enterprises roll out upgrades to their applications on daily basis as all they have to do is upgrade a micro-service instead of the whole application.
Telecom operators wish to achieve the same level of agility in rolling out new services to achieve faster time-to-revenue for their new services. However, this transition opens up a once very closed and controlled network to security threats that the enterprise world has faced over the last decade and half. This is where the opportunity for A10 Networks lies. With massive transformation in the telecom networks across the world over the next decade, we are aptly poised to protect them with our industry leading Thunder CGN, Thunder CFW and Thunder TPS products. And, we will continue to transition our products into modularized and containerized micro-services so that their orchestration and upgrade would be as simple as a few clicks of a button without disrupting any service in the network. We are entering the slope of enlightenment for 5G technology adoption. It is an exciting journey for the entire industry as we lay the groundwork for this major technology transformation.
Related links:
Blog – Advanced Security Is Fundamental to 5G Success
Solution – 5G Security & Agility at Hyperscale