To openly explore and discuss technology trends, products and industry news, the "10 with A10" feature delivers answers to the most popular questions on a given subject. It's no surprise that the inaugural edition explores A10's acquisition of multi-cloud application delivery expert Appcito and how it enhances A10 Harmony.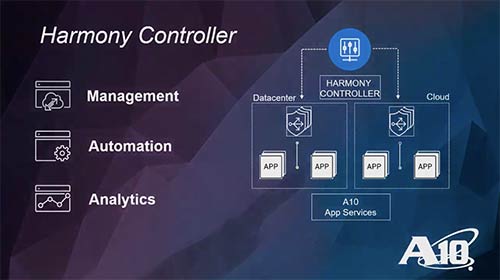 Free 30-Day Trial of Harmony Controller
From traditional on-premise data centers to public clouds, private clouds and hybrid clouds, see how the A10 Harmony Controller delivers real-time analytics to help to improve your application performance and security.
What is A10 Harmony?
A10 Harmony empowers businesses to deliver secure application services across traditional data centers, private clouds, public clouds and hybrid clouds. The solution underpins A10 Networks' vision to help businesses become more secure, responsive and operationally agile as they bridge traditional and cloud-based application environments.
Is A10 Harmony a new vision?
We first introduced Harmony in January 2015 alongside ACOS 4.0. The subsequent acquisition of Appcito only solidifies our investment in the cloud and delivering customers all A10 networking and security services in environments that make sense for them. This announcement is the natural progression of this strategy and evidence of our customer-focused innovation and execution.
What impressed you about Appcito?
A10 wants to help businesses improve their agility through more agile IT infrastructures. A10 adds very strong and talented Appcito teams that are well versed in cloud technologies and containers.
With Appcito, we are able to help customers bridge from traditional to cloud environments. The market seeks a solution to deliver applications in both traditional and public cloud models; a solution that will transition traditional on-premise, appliance-based offerings to agile services that are literally born in the cloud. A10 will be there to each step of the way.
What do I gain from A10 Harmony?
Solutions will include a cloud services controller for centralized application policy management and orchestration, elastic application traffic management capabilities integrated with DevOps processes, deep per-application visibility and analytics, and support for microservices and container-based applications.
To learn more about A10 Harmony, please visit a10networks.com/harmony.
Does A10 Harmony support DevOps initiatives?
Yes. A10 is committed to both open-source efforts and the DevOps movement. A10 will empower new and emerging DevOps-based organizations and "born-in-the-cloud" customers that rely on open-source software (OSS).
Which specific products will be part of the Harmony cloud solution?
Each of our products has different requirements and roadmaps. Particular products will be available for public cloud use in Q4 2016. We will announce product-by-product inclusion in the Harmony solution at a later date.
How much does Harmony cost and how can I purchase?
Harmony is sold via yearly or monthly subscription models. To learn more about how and when your organization can deploy A10 Harmony, please contact our sales team.
Are you building a public cloud?
No, we are not building public cloud infrastructure (e.g., AWS, Azure). A10's cloud solution will enable you to manage A10 application delivery services in private, hybrid or public cloud deployments.
Will this affect my existing A10 products?
Not at all. A10 Harmony is an expansion of what we currently offer. It gives you more technology deployable in more environments. With A10, your organization is able to be more agile and secure — regardless of the infrastructure required. This is a purpose-built portfolio that gives you more options than ever before.
Should I be concerned about my use of on-premise hardware?
Absolutely not. Our customers use both on-premise appliances — purpose-built for maximum speed and scale — and software-only cloud models for IT agility. With A10's cloud offering you will be able to deliver both on-premise and cloud models within a single architecture for simplicity and automation.
This is why A10 Harmony and ACOS are so important. Together, they bridge hardware and software deployments under a single, integrated management solution.