The application delivery controller (ADC) is in the critical path between the user and application. A purpose-built Application Delivery Controller provides capabilities like high application availability, acceleration and security for the applications it front-ends. Applications deployed on-premises require special user and traffic management, monitoring and logging capabilities that are addressed with the purpose-built Application Delivery Controllers.
The A10 vThunder® solution is a purpose-built Application Delivery Controller and is now available in the Oracle Cloud Marketplace. It enables enterprises to carry their secure application delivery policies and practices to Oracle Cloud. Access to real-time visibility into the application traffic is fundamental information for businesses in the multi-cloud world. The A10 Harmony Controller® is a deep analytics and management platform and provides real-time visibility into application traffic at a per-application, per-flow level.
vThunder on Oracle Cloud Marketplace
The vThunder on Oracle Cloud Marketplace is supported in several form factors and is available with both a bring-your-own license or pay-as-you-go through the Oracle Cloud Marketplace.

Here is the list of key features enabled by the A10 vThunder Application Delivery Controller on Oracle Cloud:
Full-Featured Layer 4 and Layer 7 ADC
vThunder provides advanced Layer 4 load balancing (TCP/UDP) and Layer 7 load balancing (HTTP/HTTPS) for applications. It has granular pre-defined health checks for popular applications like databases, mail, http/https and custom health checks for any application. It can terminate SSL/TLS connections, inspect and rewrite headers based on user-defined policies. It also provides faster caching functionality and conditional source NAT for improved user experience and optimal use of infrastructure resources. If there is anything specific that is handled by an enterprise's on-premises Application Delivery Controller, it is also available with the vThunder ADC on Oracle Cloud.
Per-App Visibility Across Hybrid Clouds
The A10 Harmony Controller dashboard enables real-time visibility for every application deployed regardless of where the application is deployed or the underlying infrastructure on which it is deployed.
See below for examples of a web application from the dashboard.
End-end latency analytics for a user-chosen application deployed in Oracle Cloud
High Availability Support Across Oracle Availability Domain and Regions
vThunder ADC provides stateful high availability load balancing of the application and user sessions between different Oracle availability domains, thereby providing infrastructure fault-tolerance for enterprise applications between the availability domains.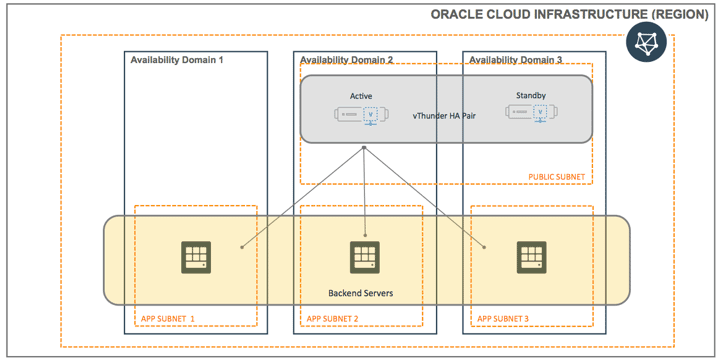 vThunder ADCs deployed as a high availability pair
Fault-tolerance across Oracle regions or between on-premises and Oracle Cloud can be enabled by using global server load balancing (GSLB). GSLB enables use cases like elastic cloud bursting, business continuity / disaster recovery and traffic optimization by intelligently routing the end user to the nearest application location.
High availability and intelligent traffic distributing across Oracle regions
Host Multiple Applications
vThunder ADC is designed for multi-tenancy with fine-granular role-based access control (RBAC), and it allows enterprises to host multiple applications on the same HA pair. This not only provides efficient use of the infrastructure, but also eases the operations and management associated with network and security functions.
Integrated Application Security Stack
The integrated security stack with vThunder provides multiple layers of application and networking security.
IPSec: A secure point-to-point connectivity between the on-premises location to Oracle Cloud
DDoS: To detect DDoS attacks and offer DDoS protection from bots and malicious sources at the network and application layer
WAF: Web application firewall (WAF) to detect and block application attacks like cross-site scripting, command injection and protection against application vulnerabilities
IAM/AAM: Application access management (AAM) functionality along with integration with identify providers to enable single sign-on (SSO) and multi-factor authentication for enterprise applications
The vThunder on Oracle Cloud Marketplace is supported in several form factors and is available with both a bring-your-own license or pay-as-you-go through the Oracle Cloud Marketplace. Visit the A10 Networks-Oracle Cloud solution in the Marketplace.