Blog
Insights Around the Journey to 5G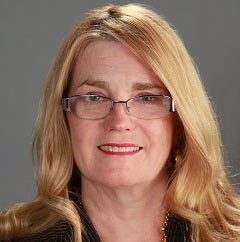 |
---
Security remains a top concern of mobile operators as they make the journey to 5G. At the recent, Big 5G event in Denver, Colo., A10 Networks shared its insights around how important security will become for 5G networks.
For instant access to the "Big 5G Event Critical Insight eBook," click here
By 2026, 5G networks will carry 54 percent of mobile data traffic globally. 5G services require a level of performance and security that mobile network operators (MNO) have not previously had to offer.
With faster speeds, lower latency and a huge increase in mobile traffic, this creates the perfect storm for security vulnerabilities like DDoS attacks.
Plus, 5G will be able to embrace more connected devices, and IoT devices are a common thread in DDoS attacks
In theory, every smartphone or IoT device can be compromised and turned into a potential weapon. These weapons are then on the inside of the network and can start attacking the core of the network itself.

Yasir Liaqatullah, VP of product management at A10 Networks, discusses 5G security and more with Phil Harvey, US bureau chief at Light Reading.
Mobile operators can no longer ignore the impact to their downstream subscribers that offer critical 5G services. For example, a 1-Gbps DDoS attack passing through the mobile network may be a blip on the MNO radar, but this could have a devastating impact on small, critical data centers for public safety or mission-critical enterprise applications.
Though the traditional method of security is to protect the edge infrastructure from attacks coming from the internet, now mobile operators need to think more holistically about their security, including the roaming and access interfaces to the core network.
When it comes to securing a 5G network, operations, integration and performance are big challenges. The question is how to integrate security while also allowing mobile operators to increase scalability and efficiency, and reduce latency.
Security platforms designed for the enterprise, for example, are not practical for MNOs when they don't provide the scale and efficiency needed.
Combined with network function virtualization (NFV) and software-defined networking (SDN), network slicing is one of the key mechanisms that will enable MNOs to offer security and other capabilities tailored to each vertical application without losing the economies of scale of common infrastructure.
Network slicing isolates each use case or service from one another, so that the services can be independently deployed, managed securely and delivered robustly.
While this provides an opportunity to strengthen the security of the network and of the individual slices, it also gives cybercriminals the opportunity to target more specific use cases.
Increasingly, too, analytics should not be a sample-based approach, especially with 5G. Analytics should be able to see all the traffic going into the network in order to take preventative and reactive measures.
A10 Networks is helping MNOs by providing highly scalable security solutions for 5G network scenarios.
Our robust firewall and DDoS detection and mitigation technologies can be deployed in physical, virtual, bare metal and container form factors to suit individual network topologies, including 4G, 5G-NSA, MEC and 5G standalone (SA).
The A10 Networks Thunder® Convergent Firewall (CFW) provides exceptionally high firewall connection rates, throughput and concurrent sessions for the most demanding 5G use case.
The A10 Networks Thunder Threat Protection System (TPS) is an automated multi-vector DDoS protection solution that ensures availability of business services at any scale or type of network.
Combined with deep packet inspection (DPI), carrier-grade network address translation (CG NAT), and intelligent traffic steering and analytics, the A10 Networks 5G security portfolio provides the highest flexibility, scalability and protection for mobile operators as they evolve their networks to support 5G.
For more highlights from the Big 5G Event, download the "Big 5G Event Critical Insight eBook," now.
Big 5G Event Critical Insights
In this eBook, the editorial team at Light Reading provides a detailed report of the main topics of conversations related to 5G, everything from IoT to DDoS attacks, to help you prepare for what might come next.
Read the eBook