Blog
Analytics, Central Management and Programmability in Any Cloud with Harmony Controller
|
---
Does your organization operate in a multi-cloud environment? Or are you in the process of moving toward a multi-cloud model? Chances are you are scratching your head with this question: how does my IT operations team manage risk amid rapidly changing technology choices, while increasing operational efficiency and agility?
Tune in to SDxCentral's Demo Friday to hear how A10's Harmony Controller helps you centrally manage workloads, servers and applications across any cloud – public, private or hybrid cloud – and enables per-application analytics, automation and security,
Who: Tom Guerrette, Director, Cloud Solution Architect for A10 Networks, and Sue Mareck, Editor in Chief at SDxCentral
This demo will give you insight into how to get the most out of your multi-cloud environment. You'll learn how to:
Centrally manage secure application services across multiple clouds and data centers
Manage infrastructure configuration and set application policies for your services, such as load balancing, application delivery and web application firewall
Use real-time analytics and visibility to detect anomalies, troubleshoot faster, improve performance and streamline capacity planning
For more information on Harmony Controller, check out this video with Kamal Anand.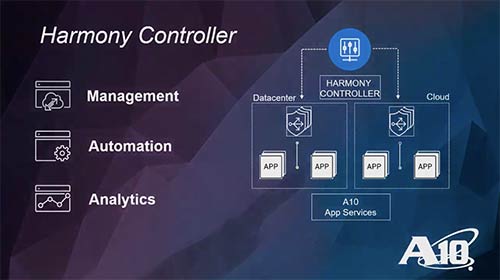 Free 30-Day Trial of Harmony Controller
From traditional on-premise data centers to public clouds, private clouds and hybrid clouds, see how the A10 Harmony Controller delivers real-time analytics to help to improve your application performance and security.
How cloud-ready and modernized are your application services?
Take this brief multi-cloud application services assessment and receive a customized report.
Take the Survey