A10 Networks ACOS operating system can be installed on bare metal servers from practically any vendor.  ACOS installations can be performed from a bootable USB disk, similar to Linux and Windows distributions. This article will describe step by step how to create a bootable ACOS installation system on a USB drive.
NOTE: These instructions describe this process from a Windows 10 PC. Other desktop operating systems work in a similar fashion.
Step 1 – Download and Install Rufus
Rufus is a common software package used to build Linux installation systems.  Rufus takes an ISO OS distribution as input and builds a complete installation environment on either a USB or a DVD drive.
Download Rufus and install this software on a Windows PC.
Step 2 – Acquire an ACOS ISO distribution from A10 Networks
Download the ISO image for ACOS from A10 Networks support.
If you do not have a login account, request one or click on the Download Trial link.
Step 3 – Insert a USB drive into the Windows machine
ACOS can be installed on USB drives as small as 4GB.
Step 4 – Start the Rufus application.
The Rufus application will appear.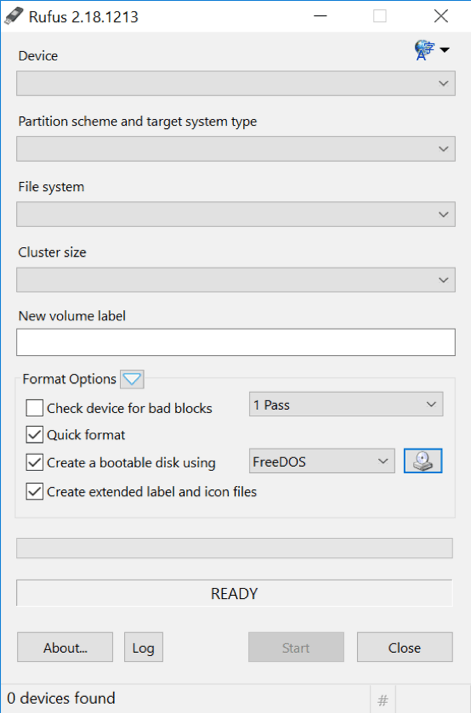 Step 5 – Select the ACOS ISO file
Click on the Disk/DVD ICON button.

And browse to the ACOS Baremetal ISO distribution.
Step 6 – Create the bootable USB drive
Rufus should show both the USB drive inserted and the ACOS ISO installation.
Press the Start button to create the installation USB disk.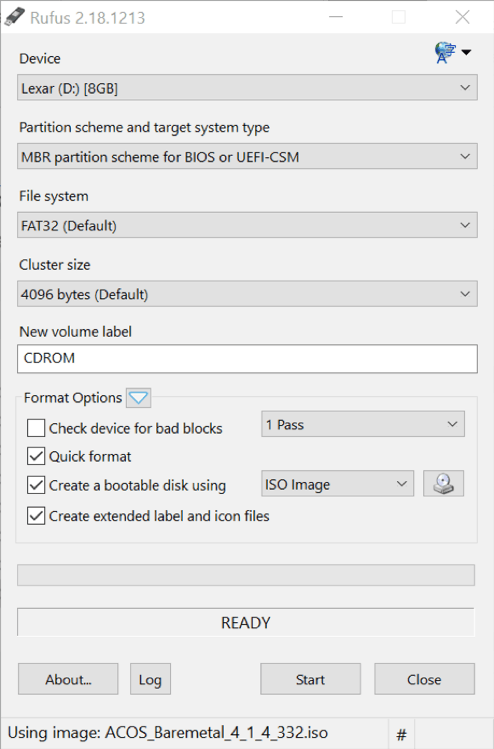 Step 7 – Install ACOS on your bare metal server
Insert the ACOS installation USB in a hardware server and boot from the USB drive.   ACOS will boot and start the installation process.