FINANCIAL SERVICES EBOOK: APPLICATION DELIVERY
Beyond On-premises. Moving to Hybrid Cloud.
Financial institutions are moving beyond traditional on-premises data centers to hybrid cloud environments. To be successful, they must address the availability, security, and performance of critical applications while meeting compliance mandates.
Sign up today and get the FREE EBOOK in your inbox.
Multi-Generational Reality
58% cited regulatory compliance as a top critical need
43% value centralized management and analytics
28% value automation for operational efficiency and reduced costs
Enter your information and

Get the Free eBook today!
By clicking the "Get the eBook" button, you are agreeing to our Privacy Policy.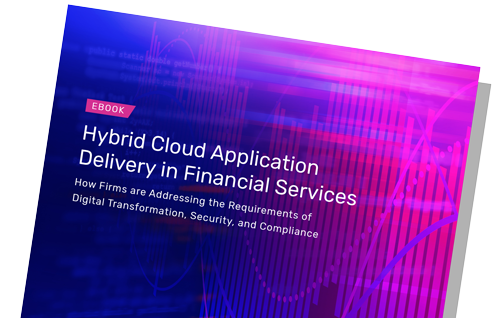 Biggest Security Concerns for Financial Services
38%
Cited cybercrime's
attribution to brand damage
FINANCIAL SERVICES EBOOK
Hybrid Cloud Application
Delivery in Financial Services
How Firms are Addressing the Requirements of Digital Transformation, Security, and Compliance
Financial services organizations are undergoing rapid digital transformation to meet changing customer needs and preferences, and to compete with a new generation of digital-native competitors. A10 Networks and Gatepoint Research conducted a survey asking senior decision-makers about their current plans, concerns, and priorities for their hybrid cloud environments.
Get the eBook