What do DDoS and OpenStack have in common?

IXIA (booth 2033) to talk about the next generation of DDoS attacks; what they look like, and what you need to do to defend against the imminent threat it poses to your online services.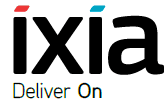 The mainstream media is already reporting and analysts and experts agree: DDoS attacks are growing in frequency, volume and sophistication. Come see me in Las Vegas and we can talk about the next generation of DDoS attacks and what you can do to prepare. A10 Networks has powerful DDoS protection solutions that can deal with DDoS attacks of any size and complexity.
The other A10 presence at Interop will be in the OpenStack pavilion #621 where we can talk to you about how our ADC and CGN products can integrate with OpenStack. If you want to know more about OpenStack collaboration, be sure to catch our Mike Thompson who is panel speaker at the OpenStack vendor tech session on Wednesday April 3rd, at 12 pm.
See you in Vegas!