Innovation and Partners at Play APEX 2013 Singapore
A10 Networks sponsors a yearly partner symposium, Asian Pacific Partner Symposium where we invite our global partners to learn more about our corporate and regional direction, showcase new product offerings as well as product demos, and engage with our global partners.  This year's theme for the 3-day conference was Bringing the Thunder!  Over 300+ attendees from 29 countries around the globe joined us in Singapore, on the beautiful island of Sentosa.

I've had the opportunity to demo the latest A10 product offerings to our partners each year we've held APEX.  This year's demo topped it off for me, like they say, "third times a charm".  On one of the demos we used an IXIA XM2 traffic generator with 4x40GE interface connected to the 4x40GE on one of the latest 1 Rack Unit (1RU) A10 Application Delivery Controller (ADC). We generated over 200+ million DDoS SYN flood attack from the IXIA XM2 and the 1U A10 ADC was able to mitigate a massive DDoS attack with zero CPU utilization.
The power of ACOS (Advanced Core Operating System) leveraging the advanced hardware architecture is how this is possible, and why others do not reach the same levels.  Our Partners were extremely impressed seeing ACOS in action and showing absolute no performance compromise to a large scale DDoS attack.  This is exactly why we took home not one, but two 'Best of TechEd 2013' awards earlier this year at the North America TechEd show for the Hardware and Attendees' Pick by showing a similar demo.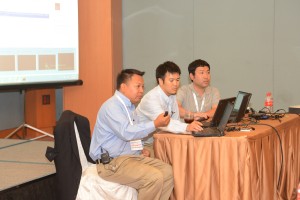 In addition to demonstrating our enhanced DDoS Mitigation solution, we also demonstrated the latest shipping versions of our advanced security solutions such as our Web Application Firewall (WAF) and Application Access Management (AAM) for Authentication, all integrated into ACOS. The WAF and AAM features were previewed last year at APEX 2012 in Taipei, Taiwan.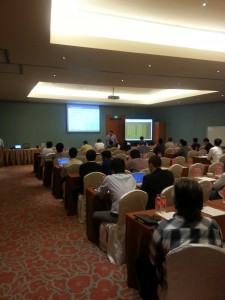 During the last day of the APEX conference I was able to lead a technical session that covers the latest and upcoming ADC features from A10. We were able to demo WAF,  SharePoint with AAM, SSL Intercept, the latest Microsoft SCVMM provider package, the new and improved aGalaxy Network Management System, the NEC Scale-out OpenFlow integration, Carrier Grade NAT (CGNAT) demo, Software-Defined Networking (SDN) – NVGRE/VXLAN demos, the new A10 cloud solutions and much more……
The 2013 APEX Symposium was another successful event as our global Partners were able to collaborate with us on new ideas, get updated with the latest and greatest from A10, and most importantly it's a time where we are able to have a great time – celebrating our continued partnerships! Looking forward to APEX 2014!