Multi-Cloud App Management Demands 'Harmony'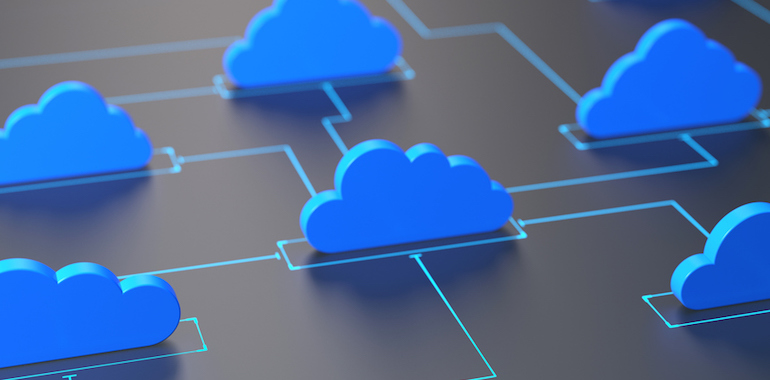 It's a multi-cloud world.
Traditionally, trying to manage applications and services across multiple clouds and data centers has been a challenge.
There is no easy, cost-effective way to manage your entire application portfolio from a central location, meaning you have to manage applications in the cloud separate from those in an on-premise data center. There is no single pane of glass. And that's a gap that needs to be filled for IT organizations and the businesses they support.
Introducing Harmony
A10 Networks today unveiled the A10 Harmony Controller, which delivers multi-cloud and multi-service application delivery and security management.
Harmony enables management of multiple applications across data centers and cloud environments to give you visibility, performance and security across all of your on-premise and cloud applications.
The result is unrivaled agility and flexibility in how you manage secure application services today and in the future.
Controller-based Architecture
The A10 Harmony Controller is the first solution in the industry that allows you to centrally coordinate secure application services and open-source solutions across hybrid environments.
The A10 Harmony Controller is built on microservices and container technologies to deliver a true multi-tenant and highly scalable controller architecture that delivers real-time, per-application analytics and centralized management and orchestration of secure application services across physical data centers and public, private and hybrid clouds.
It's a one-stop shop for all secure application service management needs across multiple clouds and data centers.
Native Multi-Cloud Support
The need for application management across multiple clouds comes as multi-cloud usage becomes more prevalent. According to cloud management provider RightScale's State of the Cloud 2017, 85 percent of enterprises have a multi-cloud strategy in 2017, which is up from 82 percent last year. Additionally, RightScale noted that cloud users run applications in an average of 1.8 public clouds and 2.3 private clouds. The idea of an organization running applications in a single cloud is a thing of the past.
With A10 Harmony, you get native multi-cloud support for elastic load balancing and web application firewall across public, private and hybrid clouds, including VMware-powered private clouds, Google Cloud Platform, Amazon Web Services and Microsoft Azure.
Per-App Analytics
Harmony also offers advanced analytics on a per-application, per-URL and per-request basis to give you granular, centralized visibility and actionable intelligence across your entire application portfolio, including your cloud applications.
Application delivery controllers (ADCs) have traditionally offered limited visibility into your applications' performance. They'd offer basic statistics such as connection counts, but not much else. If you needed visibility into specific applications, URLs or requests, you were out of luck.
With the Harmony Controller, from a single dashboard, you can gain insight into application performance and proactively add scale and optimize infrastructure before there is any degradation to the end user experience. Analytics are available across your entire application delivery infrastructure and available for A10 Lightning, A10 Thunder ADC and HAProxy open-source load balancers.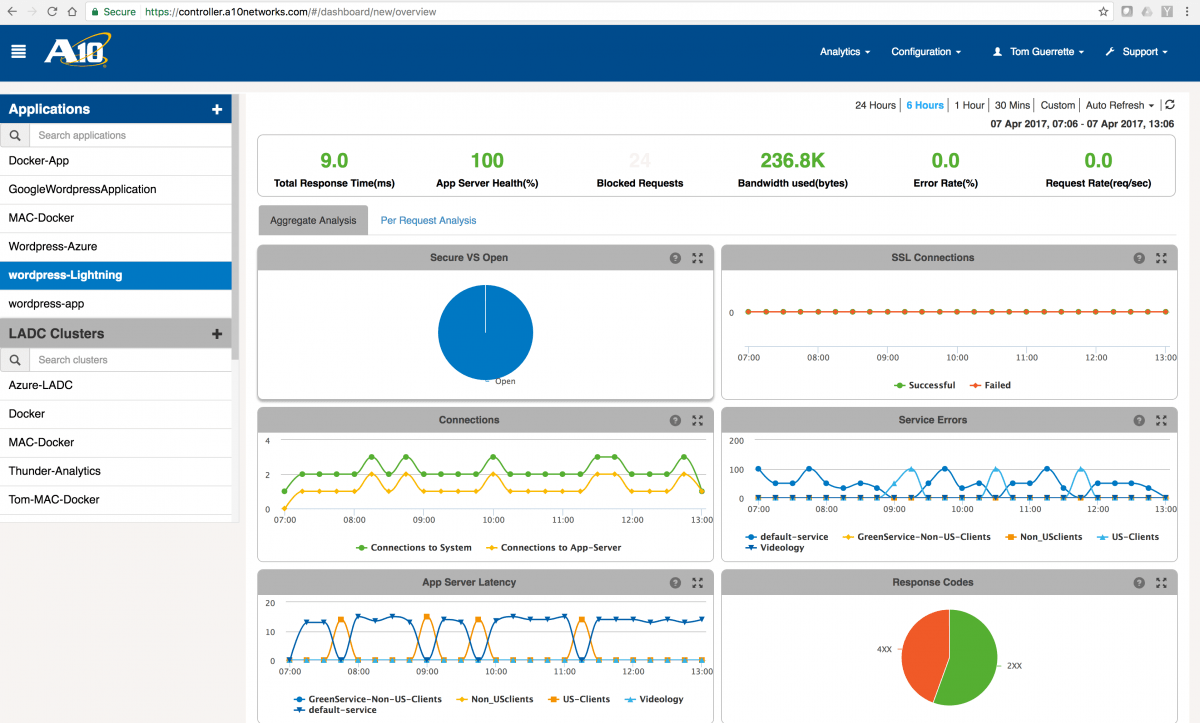 Per-application, per-URL and per-request analytics let you seamlessly manage application workloads across all modern hybrid deployments and data centers.
The analytics available in A10 Harmony are unsurpassed in the market. Granular visibility empowers you to make better security decisions, while achieving better application performance, which ultimately leads to improved customer satisfaction and swifter ROI.
Deployment Model Choice
A10 Harmony Controller also allows you to choose from two deployment models based on your business and application needs.
The first is a simple and cost-effective SaaS-based offering managed by A10 that helps you quickly and efficiently bridge your on-premise and multi-cloud worlds.
The second is a self-managed scalable, software-based solution deployed within your data center or clouds,
With A10 Harmony, you're in control. You have the power to manage and gain visibility into your entire app portfolio across data centers and multiple clouds to ensure application performance, delivery and security. With Harmony, you're ready for the multi-cloud era.
The A10 Harmony Controller with Thunder ADC integration, HAProxy load balancer analytics and native Google Cloud Platform load balancing and Web Application Firewall (WAF) offerings will be available in the second quarter. Integration with other A10 services, such as SSL inspection, Carrier Grade NAT and Converged Firewall will be available starting in the second half of 2017.
Find out for yourself how the A10 Harmony Controller helps your organization increase agility, improve operational efficiency and deliver better end-user experiences. Sign up for a free 30-day trial of A10 Harmony Controller now.