Attack of the Drones
Consumer drones are big now and they will get even bigger in 2016, with expectations to generate over $1 billion in revenues. But their increased popularity will also introduce new cyber security and physical security risks.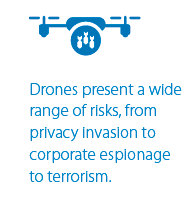 Drones serve a myriad of purposes, from military to agricultural to surveillance applications to even delivering packages from the sky. During the torrential December floods in Chennai, India, police used drones to locate and rescue 200 stranded citizens.[1] And while drones notoriously slowed down efforts to battle a Los Angeles freeway fire this past summer,[2] they could be used to detect and even drop water on fires in the future.
However, drones also present a wide range of risks, from privacy invasion to corporate espionage to terrorism. While news headlines tell of drone owners that have spied on their sunbathing neighbors, drones can also be used to snoop on confidential projects or gather competitive intelligence.
Star Wars movie executives are already developing plans to prevent drone owners from taking photos of their upcoming movie sets.[3] Executives in other industries should also take heed. For example, oil exploration companies should be wary of competitors using drones to learn where they are drilling for oil. And IT administrators should make sure that drones do not gain access to corporate Wi-Fi networks by providing closer proximity for the use of sniffers and other snooping tools.
While drones do not pose as serious a threat as other cyber security attacks such as malware, IT administrators should consider any potential cyber security or physical security risks that drones pose for their organization in 2016.
What You Can Do to Prepare for 2016
While it is challenging to predict which threats will cause the most damage in the future, we believe that trends like encryption, IoT, mobility, cloud and Internet-connected drones will introduce dangerous security risks in 2016.
To prepare for these risks, organizations should implement a multi-layered defense that can protect servers and endpoints, whether those servers are hosted in a data center or in the cloud and whether endpoints are traditional computers or mobile devices. While employees cannot always predict the future, organizations will be ready to handle future risks with the right security technologies and processes in place.
[1] The Hindu, https://www.thehindu.com/news/cities/chennai/chennai-rains-police-used-drones-to-locate-stranded-people/article7957968.ece
[2] LA Times, https://www.latimes.com/local/lanow/la-me-ln-drone-firefighting-oakhurst-20150914-story.html
[3] Mirror, https://www.mirror.co.uk/tv/tv-news/star-wars-episode-viii-studio-6984572