Black Hat USA 2015: Come for the Thunder Light Sabers, Stay for the Security Insights
In just under a month, the world's savviest security researchers—and a few hackers—will descend on Las Vegas to attend Black Hat USA and to enjoy Nevada's pleasant 100+ degree weather. A10 Networks will be at there too. Here's a quick summary of what we'll be demonstrating at the show.
Black Hat USA: Secure Your Data Center against the Next Generation of Attacks
A10 will highlight the cyber threats that you should be most concerned about including large-scale DDoS attacks, SSL blind spots, and brute force attacks. We will reveal how hackers evade traditional defenses to disrupt network access and steal data. We will also show why scale and intelligence matter in combatting today's advanced attacks.
Black Hat attendees can check out live attack demos in the A10 booth. We will provide demonstrations of A10's powerful DDoS protection and application delivery solutions. Attendees can also talk to A10 security experts about how they can uncover hidden threats in SSL traffic and safeguard their network from DDoS devastation.
Visit us at booth # 1135. We will have lots of cool prizes in our booth! Play the Wheels of Thunder game to snag one of our famous Thunder light sabers or a mini drone.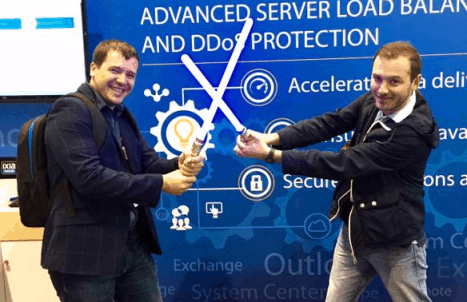 Two Thunder Light Saber winners battling for supremacy at Microsoft Ignite 2015
Watch Live Presentations from A10 Experts and Our Partners
A10 Networks and its Security Alliance partners will be presenting every 45 minutes in the A10 Thunder Theater. Join us and our partners as we discuss growing security threats such as DDoS attacks, application exploits, and SSL security blind spots. Learn about the latest evasion techniques and discover new solutions that can help you secure your organization.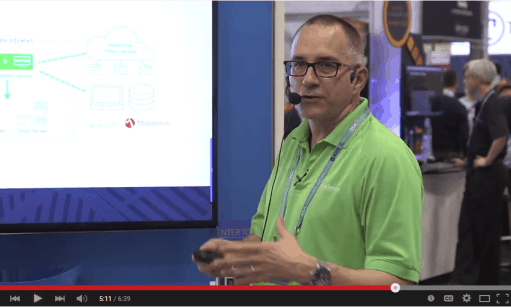 Dan Dearing of Pulse Secure presenting in the A10 Thunder Theater.
What You Need to Know about Black Hat
Black Hat is the most technical and relevant global information security event series in the world. For more than 16 years, Black Hat has provided attendees with the very latest in information security research, development, and trends in a strictly vendor-neutral environment.
From its inception in 1997, Black Hat has grown from a single annual conference in Las Vegas to the most respected information security event series internationally. Today, the Black Hat Briefings and Trainings are held annually in the United States, Europe and Asia, providing a premier venue for elite security researchers and trainers to find their audience.
Please join A10 Networks in booth #1135 at Black Hat USA to learn about today's most dangerous threats, including DDoS attacks, web attacks, and malware hidden in SSL traffic, and discover solutions that can safeguard your network.