Five Cybersecurity Takeaways From Black Hat USA 2017
Black Hat USA 2017 celebrated 20 years of Black Hat. That's two decades of sessions, training and discussion around the latest trends and threats in cybersecurity.
And this year didn't disappoint. From the Internet of Things to artificial intelligence and machine learning, no topic was off limits.
Here, we examine five takeaways from Black Hat USA 2017.
Security Pros Fear IoT
IoT-powered security threats rose to prominence late last year when threat actors used the Mirai malware to create botnets comprising tens of thousands of compromised IoT devices and launch colossal DDoS attacks that exceeded 1 Tbps for the first time on record. Fittingly, Black Hat USA's 2017 attendee survey, "Portrait of an Imminent Cyberthreat," found that IoT now ranks high among security pros' chief concerns.
The survey found that IoT security currently ranks tenth among security professionals' top worries. But when asked what they believe they will be most concerned about just two years from now, IoT security leapfrogs to first on the list with 34 percent of respondents saying it'll be their leading concern. That's up six full percentage points from last year's survey.
"These concerns would appear to be well-founded, as security researchers continue to prove vulnerabilities in non-computer systems such as automobiles and medical devices," the report notes, citing the October 2016, DDoS attack on DNS provider Dyn, which "effectively jammed IP-connected devices such as closed-circuit TV cameras, DVRs, and routers, effectively clogging Internet services for many users."
Meanwhile, during sessions, speakers showcased the myriad threats against IoT devices, including smart home solutions, industrial robots, critical infrastructure and more. One group of researchers showcased how they hacked a car wash to attack a vehicle inside.
At Black Hat, A10 Networks demonstrated how companies can defend their networks and their applications against Mirai- and IoT-powered DDoS attacks.
A10 Thunder TPS delivers DDoS protection to defend against multi-vector DDoS attacks with the industry's best attack throughput with up to 300 Gbps at a rate of 440 Mpps and more than 27 behavioral indicators to avoid legitimate traffic drops.
TPS is the highest-performance DDoS solution, protecting against attacks of all sizes – from megabit to terabit DDoS attacks.
Machine Learning in the Spotlight
Machine learning and artificial intelligence got a great deal of attention at Black Hat this year. Researchers and vendors discussed how they're applying machine learning to spot security vulnerabilities, yet cybercriminals are using the same techniques to train bots to outsmart detection tools.
Machine learning in cybersecurity is still early days, but researchers say it could significantly reduce the opportunity for cyberattacks and limit their damage.
A10 partners with Cylance and Fidelis Cybersecurity, alliance partners that both leverage machine learning to gather new threat intel and fight a better fight. At Black Hat, A10 showed how A10 Thunder SSLi works with solutions from Cylance and Fidelis Cybersecurity to provide visibility into threats concealed in encrypted traffic.
Fidelis CTO, Kurt Bertone (pictured below) spoke in the A10 theater and demonstrated how Fidelis Cybersecurity Automated, Detection and Response technology works with A10 Thunder SSLi decryption technology. Fidelis offers CISOs and security professionals an automated, detection and response platform used by the largest and the most influential organizations in the world.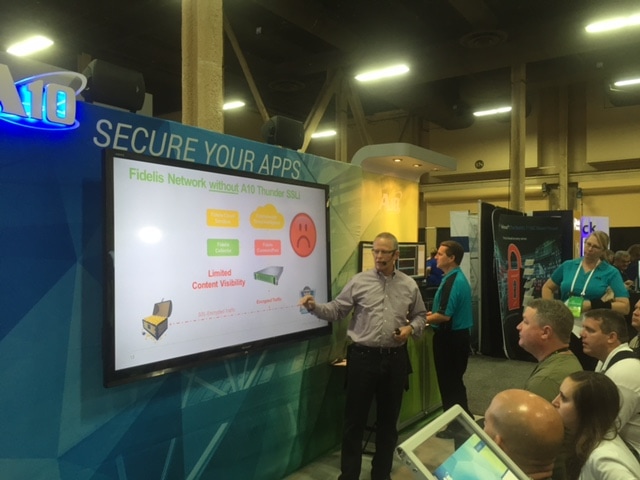 DDoS Protection in the Cloud
IoT aside, DDoS attacks still pose a major threat to businesses and network operators demand cost-efficient solutions to defend against them.
In one Black Hat session, the discussion dug into how high-impact, low-cost DDoS attacks persist.
Kevin Piper, from Verisign, an A10 alliance partner (pictured below) discussed how cloud-based DDoS protection can help secure applications and critical infrastructure.
A10 and Verisign team up to provide customers on premise, always-on DDoS mitigation, for scalable on-demand DDoS.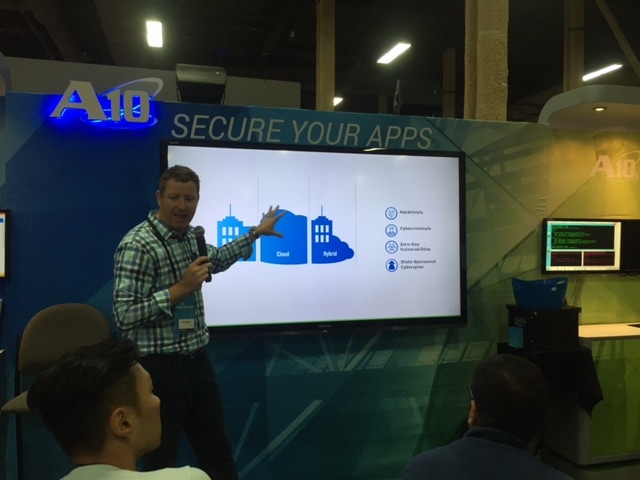 Security as a Service Takes Shape
As cloud and modern architectures take hold, many security pros are examining Managed Security Service Providers (MSSPs) to deliver security for them. While the market is still fragmented, this is a trend that is poised to continue and will likely take top billing at Black Hat 2018.
Hacking for the Greater Good
And what would Black Hat be without some hacking. Let's take look at two year's top hacks, which aim to make the web safer for everyone:
Netflix DDoS'd itself. On purpose. Why? To protect the entire internet. According to Wired, Netflix built a type of DDoS attack that turned Netflix's API against itself, which could enable an attacker to "send a very small number of resource-intensive, carefully chosen requests designed to trigger more and more requests, cascading deep into the system. In this way, an attacker could easily and cheaply cause significant resource burden, and even take Netflix down," according to Wired.
Researchers are open-sourcing a tool that might help fix a Signaling System 7 (SS7) vulnerability that has plagued cell networks for years and has become one of the world's most persistent vulnerabilities.
Those are just some of the myriad stories to emerge from Black Hat USA 2017. There were plenty more. What were some topics that caught your attention at Black Hat this year? Let us know.