A10 Networks Is Making a Splash at RSA Conference USA 2015
RSA Conference 2015 is rolling into San Francisco, April 20th – 24th, and A10 Networks is ready for it. Here's a quick summary of what you can expect from the conference and what A10 has planned to demonstrate at the show.
RSA 2015: Securing Your Data Center against the Next Generation of Attacks
Our focus at RSA is to highlight the cyber threats that organizations should be most worried about in 2015. We will reveal the latest threats that can evade or overpower corporate defenses. We will also delve into the advanced attack techniques and show why scale and intelligence matter in combatting these attacks.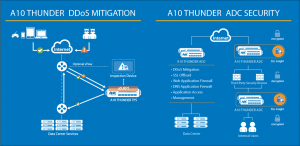 RSA Conference attendees can get close and personal with A10's high-speed DDoS protection and application delivery solutions. In the A10 booth, we will provide live demonstrations of our Thunder TPS and Thunder ADC platforms. Attendees can talk to A10 security experts about strategies to safeguard their network from DDoS devastation and learn how to uncover hidden threats in SSL traffic.
Visit us at booth #1133 in the South Hall. We also have lots of cool prizes and giveaways! Come by for a chance to win an A10 Thunder Bot Drone.
Unveiling the A10 Thunder Theater
A10 Networks and its Security Alliance partners will present engaging and informative sessions roughly every 45 minutes from Tuesday, April 21st to Thursday, April 23rd. Join us and our partners as we discuss growing security threats such as DDoS attacks, application exploits, and SSL security blind spots. Learn about the latest evasion techniques and discover new solutions that can help you secure your organization.
After each 15-minute session, A10 will give away a $50 Amazon gift card to a lucky audience member. Stay tuned to find out which sessions you should attend. We will publish the A10 Thunder Theater schedule in April.
What You Need to Know About RSA
RSA Conference 2015 – Where the World Talks Security – is the world's largest global security event. It offers a comprehensive platform for sharing intelligence, sparking innovation, and encouraging collaboration. The conference is huge – more than 28,000 people are expected to attend. With so many IT professionals coming together under one roof, we'll get the chance to challenge today's security thinking together. In addition, the convention plays host to expo space spread over hundreds of thousands of square feet, where more than 400 vendors will be on hand to showcase their solutions.
Please join A10 at RSA to learn more about Thunder TPS and how it can keep your network safe from the specter of DDoS attacks.