Always secure.
Always available.
Always

Secure.

Available.

Secure.

Available.
Enabling service providers and enterprises to deliver business-critical applications that are secure, available, and efficient for multi-cloud transformation and 5G readiness
Learn more
A10 Networks Launches Turnkey OEM Application Delivery and Security Solutions
Hybrid Cloud Solutions for Application Reliability and User Protection
The State of DDoS Weapons
Special report by A10 security research team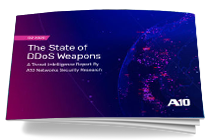 COVID-19 Pandemic
Providing business continuity while keeping our employees, customers, and partners protected and connected.
Innovative Secure Application Services for Better Business Outcomes
A10 Networks provides secure, scalable application services for on-premises, cloud, and edge-cloud environments.
We deliver better business outcomes that support investment protection, new business models, and help future-proof infrastructures.
Polynimbus Secure
Application Services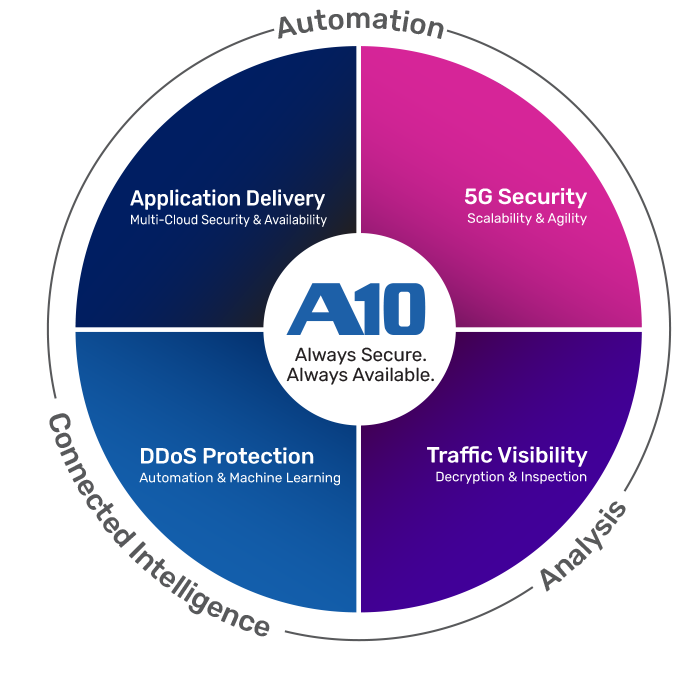 "The higher performance and more advanced features of the A10 Networks Thunder CFW PNF were a key part of our conclusion so we could guarantee the quality of services. A10 Networks was the only solution that satisfied 100 percent of our requirements."
Director of the Core Engineering Team
Technology Partners
By validating interoperability with our partners' solutions, our customers can confidently deploy A10 products into their existing network architecture to mitigate data center threats, simplify security operations, and improve visibility.